Continuing Education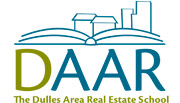 The Dulles Area Association of REALTORS® Real Estate School is dedicated to meeting the needs of your professional development by offering more classes and seminars designed to give you the resources and knowledge to stay on top of your business.
We are pleased to offer free in-classroom CE courses* for active REALTOR® members!  PLE will be offered at 50% off!  *Please note that on-line courses, designation and special seminar/events are excluded.
VREB State licensing requirements:
Contracts (1 hr)
Legal Updates (1 Hr)
Fair Housing (2 Hr)
Agency (1 Hr)
Ethics (3 Hr)
Real Estate Related/Electives (8 Hr)
DAAR's courses are designed to fulfill all 16 required hours within 2 days.  View the scheduled classes  and register today!
For more information, please contact Teresa Kirkhart, Professional Development Director & Professional Standards Administrator, 571-291-9805 or mailto:tkirkhart@dullesarea.com