Continuing Education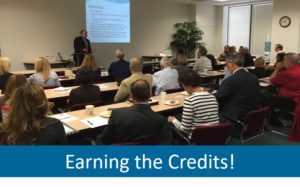 DAAR offers several CE classes throughout the year, designed to help you complete your state licensing requirements in the following categories:
Contracts (1 Hr)
Legal Updates (1 Hr)
Fair Housing (2 Hrs)
Agency (1 Hr)
Ethics (3 Hrs)
Real Estate Related/Electives (8Hrs)
Total State-required Hours = 16
Complete your 16 hours in 2 days!
CE classes are FREE for DAAR members, but registration is required.*  To register, click on links below.
SEPTEMBER 2017

Sept 13   (8 Hrs)  8 a.m. to 5 p.m.  DAY 1
September Calendar –  Registration Form 
CE – Death, Divorce & Bankruptcy
8 – 10am / 2 hr RE Real Estate Related
CE – Real Estate Contracts 
10 – 11am / 1 hr RE Contracts
CE – Real Estate Law & Legal Updates w/Flood Content
11am – 12pm / 1 hr Legal Update
CE – ARMed and NOT Dangerous 
1 – 3pm / 2 hr RE Real Estate Related
CE – Important Questions Every Agent Should Ask
3 – 5pm / 2 hr RE Real Estate
Sept 20   (8 Hrs)  8 a.m. to 5 p.m.  DAY 2
CE – Ethics & Standard of Conduct   (NAR Qualified Ethics)
8 – 11am / 3 hrs Ethics
CE – Virginia Real Estate Agency
12 – 3pm / 3 hrs Agency
CE – Fair Housing
3 – 5pm / 2 hrs. Fair Housing

NOVEMBER 2017
Nov 2   (8 Hrs)  8 a.m. to 5 p.m.  DAY 1**
November Calendar**- Registration Form
CE – Real Estate Contracts 
8 – 9am / 1 hr RE Contracts
CE – Real Estate Law & Legal Updates w/Flood Content
9am – 10am / 1 hr Legal Update
CE – Home Purchase 411
10 – 12pm / 2 hr RE Real Estate Related
CE – Reverse Mortgage
1 – 2pm /1 hr RE Real Estate Related
CE – Home Staging Workshop
2 – 5pm / 3 hr RE Real Estate

Nov  8   (8 Hrs)  8 a.m. to 5 p.m.  DAY 2**
CE – Ethics & Standard of Conduct   (NAR Qualified Ethics)
8 – 11am / 3 hr Ethics
CE – Virginia Real Estate Agency
12 – 3pm / 3 hr Agency
CE – Fair Housing
3 – 5pm / 2 hr Fair Housing
**Classes held at Patrick Henry College, Purcellville
*Registration is required.  No-shows will be charged $5.
Member walk-ins will be charged $5