Know the Rules: Real Estate Signs – Permits, Placement & Penalties – Monday, 10/2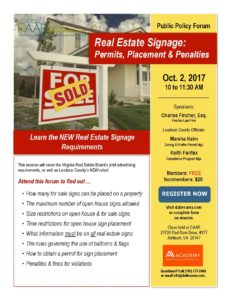 Join us for a panel discussion on the rules governing real estate signs on Monday, October 2, 2017, from 10:00 a.m. – 11:30 a.m. at DAAR, 21720 Red Rum Drive, #177, Ashburn, VA.
Learn about the licensee print advertising requirements established by the Virginia Real Estate Board and receive an overview of Loudoun County's new sign ordinance, permitting procedures, and rules governing the placement of signs.
Panelists include:
Charles Fincher, Esquire: Partner/Counsel, Fincher Law Firm
Marsha Keim: Zoning Permit and Proffer Permit Manager, Loudoun County, and
Keith Fairfax: Compliance Program Manager, Loudoun County
Sign-up today!  Registration is free for DAAR members; $20 for non-members.
For more information, view the flyer.
Questions? Contact Brenda Morton, Government Affairs and Communications Manager, at (571) 291-9804 or bmorton@dullesarea.com.