Aim High: Attend XPLODE! Monday, May 6th, Fair Oaks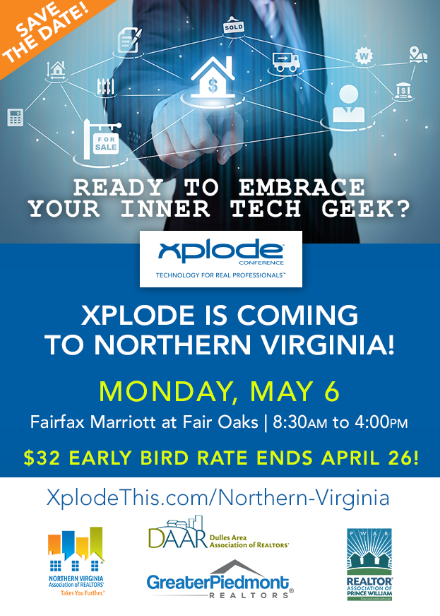 DAAR, in partnership with the Northern Virginia Association of REALTORS, Prince William Association of REALTORS and the Greater Piedmont REALTORS, invites you to register for Xplode! on Monday, May 6th, 8:30AM-4:30PM, Fair Oaks Marriott, 11787 Lee Jackson Memorial Hwy, Fairfax, VA.
Xplode! provides a full day of short, intense, jam-packed 20-40 minute long sessions filled with the latest techniques and technology to help you all you can be in the real estate industry.  Thought leaders in the real estate industry with proven track records  share practical tactics and meaningful, value added content aimed at growing your business!  There's no time to get bored. You're will be too busy learning!
Early-bird registration fee of $32 (plus $2.62 Eventbrite admin fee) is available until Friday, April 26th! For more information view the flyer and to register click here.
Schedule
9:00am | The Future is Now
Matt Fagioli, Xplode Conference
9:30am | Seriously Happy Selling
Dan Stewart
CEO, Happy Grasshopper
10:00am | Taking 100 Listings a Month
Michael Hellickson
Club Wealth
10:20am | Power Lead Gen
Andrew Dorn
National Speaker and Vice President, Events, Move, Inc. | realtor.com
10:40am | Morning Break
11:00am | Top Agent Interview
Matt Fagioli, Xplode Conference
11:15am | Secrets of Top Selling Agents
Gabe Cordova
President, Firepoint
11:40am | How to Attract Millennial Homebuyers Online
Matt Josefs
Senior Consultant, web.com
12:00pm | LUNCH BREAK Lunch & Learn Sessions – Realtor.com | Homes.com
1:00pm | Impressing Clients and Closing Deals. Anytime, Anywhere with RPR
Katie Gleboff
Manager, Training & Programs – RPR
1:30pm | Christina Griffin – A Lifetime of Success
Christina Griffin
Griffin Group
1:45pm | Top Agent Interview
Matt Fagioli, Xplode Conference
2:00pm | Life is a Box of Brownies
Peter Schravemade
Manager, Box Brownie
2:20pm | My Life is Greater Than Real Estate
Roberta Ross
President, Six Figure Real Estate Coach
2:40pm | Zero to Diamond
Ricky Carruth
Realtor, RE/MAX of Orange Beach
3:00pm | Lead Conversion in a Nutshell
Jack Markham
Vice President, Site Director, Zurple
3:20pm | Tenacious Team Building – Gabe Cordova & Michael Hellickson
Gabe Cordova
Firepoint
Michael Hellickson
Club Wealth