Renovation in Progress – DAAR Office will Close for Sanding and Painting 12/16-20
UPDATE 12/18. IMPORTANT: Please note that the office will be closed from Monday, December 16th through Friday, December 20th due to full office sanding and painting.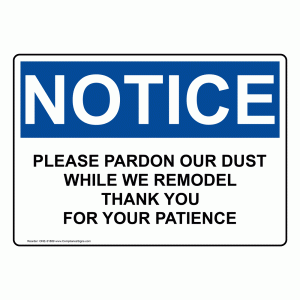 As reported late last month, construction began on remodeling DAAR's reception, lounge and REALTOR® store area. The reconfigured space will include a more welcoming collaborative space for members, a reinvigorated REALTOR® store and private office for members to work between appointments. Enhanced insulation will be added to reduce noise and improve energy efficiency. Please note that the value of the renovation costs was rolled into the extension of the office lease to 2027 to minimize cost to the association.
The renovation work is expected to continue through early January. Scheduled meetings and events will take place off-site during this time period. We will make our best effort to ensure that it's "business as usual" at the DAAR office during this time, but please expect a lot of dust and closings during office hours while the construction is happening.
We now expect the office to open on Monday, December 23rd, 8:30AM. All staff will be working remotely. Please direct all calls to Christine Windle, CEO, DAAR, 703/727-2144 (cell) or cwindle@dullesarea.com if you are unable to reach a staff person via email (info@dullesarea.com) or our main line at 703/777-2468.
Once the renovation is complete, members will have access to an amazing space to collaborate, drink a cup of coffee, purchase a sign-rider, take a class or participate in a meeting.
Thank you for your patience during this process.