Do You Want to Become a Broker?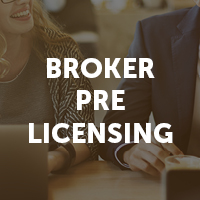 Are you interested in elevating your knowledge, earning more income, achieving distinction as an expert or gaining a competitive edge?  If you enjoy managing people, having the ability to train and motivative others and desire to continue your education from contracts to technology, you may want to consider working toward your broker's license. 
DAAR is pleased to offer the broker pre-licensing education you'll need to take your career to the next level! Courses begin Jan. 12 with the Finance module; followed by Appraisal (Feb.), Brokerage (March), and Law (April). Attendees may sign up for just one module, or complete them all! 
Broker Pre-Licensing Finance (begins Jan. 12)
Register
Course covers nature and cycle of real estate finance, mortgage markets, sources of funds, instruments of real estate finance, various types of loans and financing programs, closings, defaults, and foreclosures.
Class dates: 1/12, 1/17, 1/19, 1/24, 1/26, 1/31
Broker Pre-Licensing Appraisal (begins Feb. 2)
Register
Covers the major principles behind valuing real estate, forces that create and affect the real estate market, steps in the appraisal process, various types of capitalization, and mathematical computations/statistics needed for appraising.
Class dates: 2/2, 2/6, 2/13, 2/16, 2/23
Broker Pre-Licensing Brokerage (begins March 2)
Register
Build your own firm from the ground up. Lectures will cover leadership, management, communications and decision making, business procedures, marketing & advertising, staffing, recruiting, professional competency, coaching & training, and managing risk.
Class dates: 3/2, 3/6, 3/9, 3/13, 3/16, 3/27
Broker Pre-Licensing Law (begins April 11)
Register
Real/personal property law; land, water, & air rights, estates, condominiums, & cooperatives, landlord-tenant law; contracts; agency, escrow, liens, deeds, transfers, titles, mortgages, & closings; fair housing, environmental & green development.
Class dates: 4/11, 4/13, 4/18, 4,20, 4/25, 4/27