Invest in DARPAC!
Whether we like it or not, your ability to make a living as a REALTOR® is affected by the decisions made by government officials.  That's why the Dulles Area REALTORS® Political Action Committee (DARPAC) raises voluntary funds from REALTORS® in order to help elect public officials who understand the importance of homeownership and the real estate industry.  In just the past few years, DARPAC has helped fight off harmful legislation and promoted policies at all levels of government to strengthen the real estate industry including:
Local
Battling Rising Tolls on the Dulles Greenway
Continue to pursue ways to lower the costs of traveling the 14-mile Dulles Greenway.
Promoting the Development of Housing that is Affordable
Testified at the Board of Supervisor's 2017 Housing Summit and continue to advocate for the incorporation of different housing types that are affordable to the workforce in Loudoun County.
Ensuring that REALTORS® Can Adequately Market their Client's Property
Worked to change legislation that would have severely limited your ability to place Open House signs to market your client's property.
Educating and Electing Policy-Makers
DARPAC supports officials (regardless of political party) who support REALTOR® issues. DAAR's Government Affairs Committee meets monthly with local and state lawmakers to discuss and raise awareness on issues of concern to the real estate profession.
Member of Committees and Boards with Key Local Lawmakers
DAAR has representative on:
Loudoun County Comprehensive Plan Stakeholders Committee – Envision Loudoun
Loudoun County Housing Advisory Board
Loudoun County Affordable Dwelling Unit Advisory Board
State
Disclosure Packet Improvements
Strengthened the requirement that resale disclosure packets be delivered within 14 days. Added statements to advise purchasers to research easements and other restrictions on prospective properties.
Home Inspector Licensing
Advocated for formal licensing of home inspectors to standardize training and compliance in that industry.
Established First-Time Home Buyer Savings Plans
Virginians are able to place funds in a bank, mutual fund, brokerage account, or almost any other investment and declare them first-time homebuyer savings plan accounts to be used for down payments and closing costs on first homes in Virginia.
Federal
Preservation of the Mortgage Interest Deduction (MID)
The MID is a remarkably effective tool that facilitates homeownership.  Working to ensure that its viability is not compromised.
Working to Reform the National Flood Insurance Program
Continued to work in Congress to strengthen this critical program and to ensure it is reformed and reauthorized.
Your support of DARPAC is critical
Only because of past DARPAC investments have the REALTORS® been able to successfully promote legislation that helps your business and fight off attacks on your livelihood. To ensure our continued success, please consider making a contribution by paying on-line, downloading this form and faxing it to (703) 771-9787, or call and set up an easy Installment Plan!  For more information, please contact Brenda Morton, (703) 777-2468 or bmorton@dullesarea.com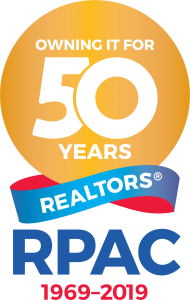 DARPAC Investors of $99 and higher in 2019
Platinum R/President's Circle ($10,000 +)
Gene Mock, Keller Williams Leesburg
Golden R/President's Circle ($5,000 +)
Brad Boland, Keller Williams Dulles
Sterling R/President's Circle ($1,000+)
Beckwith Bolle, Carter Braxton Preferred Properties
Sterling R ($1,000+)
Richard Blessing, Weichert, Commercial Division
Omni Casey, Weichert, REALTORS®
Kyle Crawford, Century 21 New Millennium
Lars Henriksen, Century 21 Redwood Realty
Shawn Milletary, Century 21 Redwood Realty
Gwen Pangle, Pangle and Associates
Nancy Pav, Century 21 Redwood Realty
PJ Riner, Century 21 Redwood Realty
Jim Stakem, Re/Max Select Properties Inc.
Phyllis Stakem, Re/Max Select Properties Inc.
Holly Weatherwax, Momentum Realty
Christine Windle, Dulles Area Association of REALTORS®
Governor's Club ($500-$999) 
Brenda MacEoin, ERA Teachers Inc.
Barry Taylor, Weichert, REALTORS®
Capital Insider ($250-$499)
Robert Butcher, BHHS PenFed Realty
Michelle Campbell, Long and Foster Real Estate Inc.
Christine Covey, Keller Williams Realty
Ashton Hogge, Weichert, REALTORS®
Yvonne Holland, Pearson Smith Realty
Kathryn Sink, Sink Realty Group, LLC
Glenn Stakem, Re/Max Select Properties Inc.
Mike Wagner, Pearson Smith Realty
Mary Walker, McEnearney Associates
$99 Club ($99-$249)
Charlotte Bonini, Century 21 Redwood Realty
Dwight Brooks, Weichert, REALTORS®
Lou Cironi, Evergreen Ridge Realty
Whitney Engstrom, Weichert, REALTORS®
Sandra Fletcher, Coldwell Banker Residential
Lee McGinnis, Long and Foster Real Estate Inc.
Brenda Morton, Dulles Area Association of REALTORS®
Dale Myers, The Myers Group
Aimee Waltz, Fidelity Bank Mortgage
Leslie Woods-Hulse, Century 21 Redwood Realty
Contributions to Virginia REALTORS® RPAC are voluntary and are used for political purposes; they are not deductible for federal or state income tax purposes. Members may contribute more or less than the suggested amount and may refuse to contribute without reprisal.  The National Association of REALTORS® or any of its state associations or local boards will not favor or disfavor any member because of the amount contributed.  NAR has established state Federal RPAC Disbursement Allocations based on anticipated National RPAC needs.  Thirty percent of all Major Investor contributions are sent to NAR to be applied to the Federal RPAC Disbursement Allocation and are charged against the limits under 52 U.S.C. 30116 with the remaining seventy percent maintained for state and local usage.  Decisions regarding Virginia REALTORS® RPAC contributions to meet the Federal RPAC Disbursement Allocation will be made throughout the fundraising year.