Doors Opening: DAAR/NVAR Commercial and Residential Bus Tour – 9/14
Doors Opening: DAAR/NVAR Commercial and Residential Bus Tour – 9/14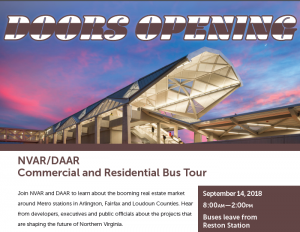 Join NVAR and DAAR to learn about the booming real estate market around Metro stations in Arlington, Fairfax and Loudoun Counties. Hear from developers, executives and public officials about the projects that are shaping the future of Northern Virginia and beyond.
Your day will begin at Reston Station with light breakfast and a kick-off from atop the tower rising above the Reston Metro Plaza (parking available at Reston Metro). The bus tour will then follow a route along the Silver-Line Metro corridor both inside and outside the beltway with commentary from local experts about the planned, approved and ongoing residential and commercial development shaping the next phase of transit-oriented development in our region.
The day will conclude with lunch and insights from Loudoun County Economic Development representatives at Loudoun Station before returning by bus to Reston.
Registration fee of $50 includes breakfast, tour, lunch and materials.  Seating is limited.  Sign-up online today to reserve your spot!  For more information, view the flyer.