April 2017 Loudoun County Market Trends Report: Home Prices and Sales Soar; Inventory Remains Low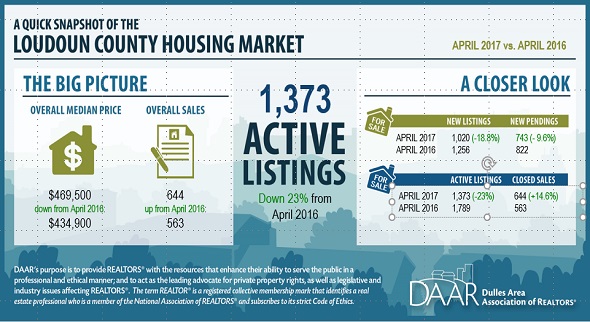 The following analysis of the Loudoun County, Virginia housing market has been prepared by George Mason University's Center for Regional Analysis. It was prepared for the Dulles Area Association of REALTORS® by analyzing MRIS multiple listing data from MarketStats by ShowingTime. 
Overview
Loudoun County's median sales price increased in April, rising 8 percent on an annualized basis to $469,500 – the second highest figure in the past decade.
Demand growth remained consistent as closed sales are up 14.4 percent from over April 2016 to 644 sales – the largest April number since 2005. However, contract activity is beginning to trend downward as new pending sales decreased 9.6 percent from last year.
Active inventory continues to decline. At the end of April inventory was 23.3 percent lower than the same point last year. This left 1,373 homes for sale at the end of the month, with 2.4 months of supply headed into May.
New listing activity decreased significantly relative to last year; 1,020 homes were added to the market in March, down 18.8 percent from April 2016. This signals no reprieve in the coming months from the persistently tight inventory.
Loudoun County homes continue to sell significantly faster than last year, with half of the March sales being listed for 7 days or less, down from April 2016's total of 12. This is the lowest median number of days on market in over a decade.
Loudoun County home sellers received on average 99.1 percent of original list price in April.
Condos saw the highest number of sales in over a decade.