DAAR REALTOR® Benefits
Founded in 1962, the Dulles Area Association of REALTORS® (DAAR), located in Ashburn, Virginia, works to provide members with effective business tools, lifelong professional development and consistent business support. DAAR's focus is on YOUR BUSINESS and the community you serve. Make the most of the following benefits of membership!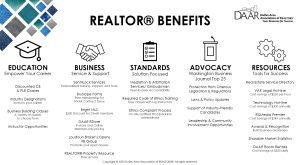 | | | |
| --- | --- | --- |
| | | |
EDUCATION

COMMUNICATION

BUSINESS

Industry Designations and Certifications Increase your skills, proficiency, and knowledge through a variety of designations and certifications acknowledging experience and expertise in various real estate sectors.

Annual Conference and Expo Our all-day annual conference showcases the best in real estate practices and services.

Economic Summit and Housing Forecast Our Economic Summit offers valuable insight on the national, regional and local housing market from some of the most renowned economic experts in the country.

Business Building Courses Stay up to date with the latest strategies, techniques and tools to grow your business by taking a variety of workshops and classes focused on lead generation, marketing, effective technology and buyer and seller trends.

Online Communications: DAAR's website www.dullesarea.com

is loaded with searchable information on events and other Association news / Services provided by DAAR. DAAR also maintains a presence on social media sites including

Facebook, Instagram

and

LinkedIn

.

DAAR eNews: A weekly e-newsletter is sent to keep members up-to-date with happenings in the local real estate market and with DAAR activities and notices.

Loudoun Broker's Opens REALTORS® are invited to advertise and share information about their broker's opens to over a thousand REALTORS® on a dedicated Facebook group administered by DAAR.

REALTOR.COM Profile Build your online presence now by claiming your free profile on REALTOR.COM.

DAAR Facebook Page REALTORS® are invited to follow the DAAR Facebook page for updates in the real estate industry and other events, education, classes and other real estate topics.

SentriLock® Key and Lockbox Services SentriLock®,  makes showing and selling properties safe and efficient.  Purchase your subscription and access personalized training, support and tools.

Bright MLS Gain access to your success by joining Bright MLS, our region's Multiple Listing Service. As a member of DAAR, you qualify for a discounted rate.

NVAR Contract Forms via SkySlope Receive access to local forms via skyslope.com. Free for Virginia REALTORS® members. Download the flyer for more information.

RStore: Take advantage of member-only pricing for real estate products at our retail store. Access through your member portal.

REALTORS Property Resource Complimentary access to RPR which provides REALTORS with data, tools and reports to help clients and close more deals.

Online REALTOR® Directory and Profile Members can keep their real estate profile up-to-date for within our "Find a REALTOR" search engine.

STANDARDS

ADVOCACY

RESOURCES

Mediation/Arbitration and Ombudsman Services – DAAR promotes ethical business practices with a forum for complaints and recourse for satisfaction, if justified. This service saves members thousands of dollars in legal costs arbitrating business disputes. In the minds of the consumers, abiding by a Code of Ethics is a prominent reason for using the services of a REALTOR® instead of a Real Estate salesperson.

Required Codes of Ethics Training  Free in-class instruction includes error-free compliance reporting to DPOR and NAR.

Handling REALTOR Disputes If a problem cannot be resolved informally, there is a complaint process for educating and disciplining members who are found in violation of rules.

Protection from Onerous Legislation and Regulation

DAAR is your voice in local, state and national government real estate issues, offering members the opportunity for direct involvement.

Support of Industry Friendly Candidates DARPAC supports candidates who support real estate issues and a favorable business environment in Loudoun County and in the Virginia General Assembly.

Leadership, Committee and Community  Involvement DAAR committees help you develop leadership skills and make valuable contacts. Members can help shape the industry and REALTOR organization's future.

Legal Hotline Access to a team of expert legal professionals at the Virginia REALTORS who stand ready to answer your real estate questions.

Technology Hotline  Access support for hardware, software, networking and digital devices.

RISMedia Premier Knowledge is power. Stay in the know with leading edge information and resources included in your membership.

Awards and Industry Recognition Build business awareness based on your outstanding achievements in the industry at the annual DAAR REALTOR® Awards event.

Market Statistics Share the latest monthly market statistics analysis for Loudoun County prepared by Virginia REALTORS®.

HousingWire+ Get the latest industry news, data, and research insights that are sure to help you with your business. Unlock unlimited article access across HousingWire, RealTrends, Reverse Mortgage Daily, and many more exclusive HW+ benefits!

For more information about DAAR Membership, reach out to membersvc@dullesarea.com or 703-777-2468.