Economic Summit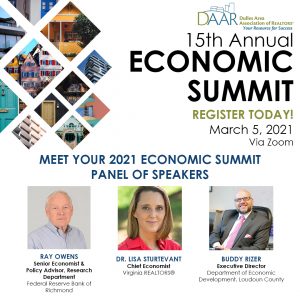 Join DAAR for our 15th Annual Economic Summit!
Economic experts will highlight the 2021 housing market and economic trends in Northern Virginia and beyond.  Join other real estate professionals, attorneys, professors, affiliate partners, and county officials.
March 5, 2021
8AM -11AM
Via Zoom


Ray Owens
Ray Owens is a senior economist and policy advisor in the Research Department. Owens joined the Federal Reserve Bank of Richmond in 1983 after earning his master's degree from Virginia Tech in 1980. He has published academic articles on monetary policy, financial markets, and economic development policy.
In addition, Owens frequently talks to groups on current economic developments and is regularly quoted in the financial press. He created the Richmond Fed's monthly surveys of manufacturing and service sector activity.
In addition to tracking economic trends, Owens has researched credit issues, commercial and real estate markets, economic development incentives, and other regional economic topics.
Dr. Lisa Sturtevant
Lisa Sturtevant, PhD, is the founder of LSA and an advisor to the firm. Dr. Sturtevant is currently the Chief Economist for the Virginia REALTORS®. Dr. Sturtevant has been involved in research and analysis on local economic, demographic, and housing market conditions and local housing solutions for more than 15 years.
Buddy Rizer
Buddy Rizer is the executive director for economic development in Loudoun County, Virginia. He leads the agency responsible for encouraging growth and developing relationships with Loudoun's business community in both the commercial and agricultural-based business sectors. During his tenure, Rizer and his team have attracted more than $20 billion in new investment and tens of thousands of new jobs.
In 2007, Mr. Rizer joined Loudoun County and helped build "Data Center Alley" into the largest concentration of data centers in the world. He has spoken internationally on the growth of data centers in Virginia, the importance of incentives and business environment to the industry and the positive impacts data centers have on their communities.
In 2017, Rizer was named one of the top 50 Economic Developers in North America. He was named a Tech Titan by Washingtonian Magazine in 2017, 2018 and 2019.  Rizer has been named one of the 50 most influential Virginians for 2018 and 2019 by Virginia Business Magazine, and was named the Washington Business Journal's Power 100 as one of the most influential businesspeople in Washington, D.C., in 2019.