Affiliate Corner
The Dulles Area Association of REALTORS® (DAAR) is pleased to offer area businesses the opportunity to join the Association as Affiliate Members. Affiliate Membership is a special category of membership reserved for individuals who are not actively engaged in the real estate profession, but who have an interest in the  activities of the Association, including access to resources, programs, services, and information.
Examples are, but not limited to, mortgage bankers, closing attorneys, home inspectors, home warranty representatives, insurance agents, pest control specialists, staging companies, interior design companies, and web design companies.  Membership is on an individual or company basis.  In other words, only one person will join and hold membership on behalf of themselves or their company.
DAAR works for you! As a member, you are entitled to member communications, monthly news, legislative advocacy on your industry's behalf, community service, and being part of a strong group of industry professionals.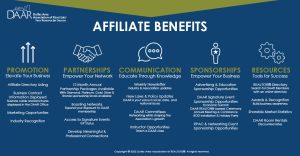 | | |
| --- | --- |
| | |
PROMOTION

COMMUNICATION

RESOURCES

Affiliate Directory Listing: Company name and contact info included in the online directory.

Company Brochures and Business Cards: Display tri-fold brochures and business cards in the DAAR REALTOR® Store.

Marketing Opportunities: Classroom poster or pop-up banner, Signature Event program book ads, Weekly Newsletter Ads, DAAR Classroom & REALTOR® Store Sponsorships.

Awards and Industry Recognition: Build business awareness based on your outstanding achievements in the industry at the annual DAAR REALTOR® Awards event.

Online Communications: DAAR's website www.dullesarea.com

is loaded with searchable information on events and other Association news / Services provided by DAAR. DAAR also maintains a presence on social media sites including

Facebook, Instagram

and

LinkedIn

.

DAAR eNews: A weekly e-newsletter is sent to keep members up-to-date with happenings in the local real estate market and with DAAR activities and notices.

Business Building Courses: Stay up to date with the latest strategies, techniques and tools to grow your business.

Instructor Opportunities: Showcase your expertise and become a member of the DAAR Real Estate School faculty.

Online REALTOR® Directory: Affiliate members can search online and Find a REALTOR" search engine.

SentriLock® Lockbox Services: You may purchase your SentriLock® subscription to use the SentriKey™ Real Estate App.

Market Statistics: Access to Loudoun County market reports and statistics from the current and past years.

Classroom and Board Room Rental: Affiliate members can rent the two DAAR classrooms (can be expanded into one large classroom), and/or the 20-seat board room.

PARTNERSHIPS

SPONSORSHIPS

ADVOCACY

DAAR offers an environment in which you can develop enduring relationships that can have a positive impact on the growth of your company. For 2023-24, DAAR is offering annual sponsorships.

Benefits of Partnerships: Increased Exposure, Sponsorship Spending Opportunities, Company Memberships, Sponsored Event Recognition, Affiliate Directory, Logo and Link on DAAR Strategic Partners Page, Annual Meeting & Expo Booth Discounts, Signature Event Program Book Ads, Signature Event Tickets, Publication Advertisements – Facebook and DAAR Newsletter, and Classroom Pop-up Banners and Posters

Whether you're looking to reach a specific segment of the REALTOR® community. DAAR has a variety of virtually-based and in-person event / education sponsorship opportunities available to assist you in reaching your business goals.  Check out the Sponsorship Guide for more opportunities. 

Signature Events: D3 Conference & Expo, Economic Summit, Holiday Party & Board of Directors Installation, and the DAAR Awards Ceremony.

Networking Events: Quarterly Networking, RPAC Networking Events, and Community Service Events.

Education: CE / PLE and Build Your Knowledge Base Classes, DAAR Forums, and Designation Classes.

The REALTOR® Party advocates on your behalf every day! The REALTORS® Political Action Committee (RPAC), which helps elect candidates for local and state offices who will protect homeownership and the interests of the real estate profession.

RPAC and DAAR's Government Affairs works to:

1. Help REALTORS® successfully fight off attacks on burdensome regulations

2. Protect homeownership and ability for your clients to sell and purchase a home

3. Improve the quality of life in Loudoun County

4. Educate and elect policy-makers who support REALTOR® issues
For more information about these unique opportunities contact Member Services at
membersvc@dullesarea.com.