Meeting / Event Space
Are you looking for space for your upcoming corporate meeting, seminar or settlement?  Then look no further for meeting or event space that is professional and affordable. Rely on the Dulles Area Association of REALTORS® (DAAR) for meeting or event space when you need it!
DAAR offers two classrooms (can be expanded into one large classroom), comfortable lounge area and 20-seat board room.   Thoughtfully situated in the center of Ashburn with easy access to the Dulles Greenway and Route 7, our rooms have all the necessary meeting extras for you or your attendees.  Audio/visual equipment consists of ceiling-mounted projectors and screens (conference room only) and new high-tech Aqua Boards (in classrooms only) with the ability to plug in a laptop for a presentation.

RULES AND REGULATIONS
Thank you for considering DAAR for your meeting. We trust you will find our space clean, convenient, and affordable. To guarantee a positive experience for you and our future customers, adherence to the following rules and regulations must be observed.
All requests must be submitted no less than 15 days prior to event by the Broker or Affiliate member of record for DAAR. Each event request requires approval by DAAR for usage of the space requested.

Applicant agrees that actions taken during the usage period are the responsibility of the individual, business or organization submitting the agreement.

Applicant agrees not to hold DAAR accountable in the event of an injury both personal and property that may occur in connection with use.

Applicant is liable for any damage done to the space during use and shall reimburse DAAR for costs of repair of damage.

Applicant agrees not exceed occupant limitations as outlined in pricing.

All usage spaces are non-smoking and non-alcoholic

Usage space is available 8am – 4pm Monday through Friday.

Applicant agrees to leave the facility in the same condition found:
Return tables, chairs, podium, etc… to original locations

Clean kitchen area and bathrooms

Haul garbage to the dumpster

All decorations, food, and other items brought in must be removed
Failure to comply with any of the items listed in (8) will result in forfeiture of the $100 security deposit. Members who fail to comply with any of the items listed in (8) will be charged a $150 clean up fee.
9. Applicant agrees that the kitchen usage is limited to applicant and/or assisting vendor. Kitchen is not to be utilized by attendees.
10. Applicant agrees not to hang or place objects on ceilings or walls and will not remove objects that are presently there.
11. Applicant agrees to pay ½ of the fees associated with usage of rental space up front at agreement signing. The remaining total will be paid no later than 10 business days prior to rental. It is mandatory that all fees for usage be paid before an event/function, no exceptions made. In order to receive a refund, all cancellations must be received 5 business days prior to the date of the event/function.
12. Applicant agrees to share these rules and regulations with any staff or vendor participating in the event/function, including caterers, administrators, instructors, etc.
13. Parking is limited to DAAR's parking lot at the front entrance. Attendees will not block streets or park in unauthorized areas.
14. Applicant agrees to replace any chairs ($60) and/or tables ($200) in the event there is any damage. Inventory will be taken before and after any event.
15. If applicant wishes to use copier, applicant must select the copier package and pay in advance for use.
16. DAAR reserves the right to refuse approval of use of the requested space.
ROOMS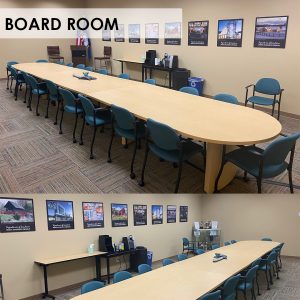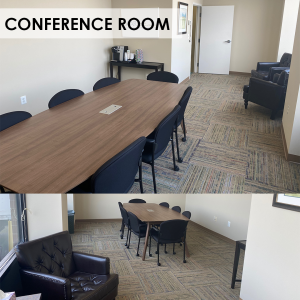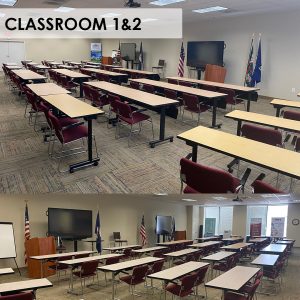 AV EQUIPMENT
Each classroom is equipped with the following AV equipment to rent:
80" Interactive Aquos Board

Wi-Fi

Microphones
Board Room is equipped with the following AV equipment to rent:
Conference Room has the following to rent:
PRICING
Room
Classroom Seating  
Up to 4 Hrs Rental
Full Day Rental
AV
Equipment
Copier Access
Non-Member
 Monday – Friday   8am – 4pm
 

Conference Room

8

$250

$375

N/A

$30

Board Room

20

$300

$400

$50

$30

Classroom 1

50

$300

$450

$50

$60

Classroom 2

50

$300

$450

$50

$60

Classroom 1 & 2 (Combined)

100

$450

$550

$50

N/A

 
 
 
DAAR Member (Realtors & Affiliates)
 Monday – Friday       8am – 4pm
 

Conference Room

8

$125

$250

N/A

$25

Board Room

20

$150

$275

$50

$25

Classroom 1

50

$150

$300

$50

$50

Classroom 2

50

$150

$300

$50

$50

Classroom 1 & 2 (Combined)

100

$225

$350

$50

N/A
All Applications must be submitted as least 30 days in advance of event/meeting date.

CONTACT US
Beth Fischel, Professional Development Director, 571-291-9805.