President's Page
Meet your 2022 DAAR President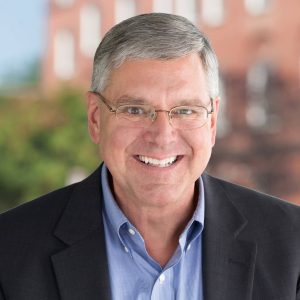 RICH BLESSING
I have been a REALTOR® and a member of DAAR since 2014.
FUN FACTS
I have been an original homeowner in Ashburn Village since 1993.

I started as an on-air meteorologist delivering radio weather forecasts in the northeast United States.

I spent 13 years in management consulting and digital marketing for the real estate industry.

I come from a large family of earth scientists. I met my wife of 43 years in Climatology class. Our oldest is an earth science teacher, just like her mom and her sister's husband, and our son is an environmental geologist.

I am an assistant coach for the varsity softball team at Rock Ridge High School where I helped my oldest daughter start the school's softball program, as well as a past president of the Ashburn Girls Softball League. 
My Q1 2022 Letter to the DAAR Membership:
Dear DAAR Members,
My name is Rich Blessing and I'm proud to be serving as your 2022 DAAR President. What an honor to represent this amazing Association.
As I stated in my installation speech on December 9, there are many important goals I know we will all work together to achieve in the year ahead.
I believe that as REALTORS®, colleagues, and small business owners we must always help and support each other. That is why this year I want each of us to ask ourselves:
"What's my role?"
We must all determine what role we play in building and growing this Association.
As REALTORS®, we certainly serve an important role when it comes to supporting the REALTORS® Political Action Committee (RPAC) and the work they do to fight for REALTORS® and property rights. Through RPAC, Virginia REALTORS® (VAR) has been steadfast in their work to combat harmful legislation and promote policies at all levels of government to protect REALTORS® and their clients. In 2022, it is imperative that we all play our part in supporting RPAC and in turn supporting each other.
As we head into the new year, one of the most pressing state-level priorities is the fight for affordable, quality REALTOR® health insurance. VAR has been working tirelessly on this issue for years, and 2022 should be the year we get it done. In late December, VAR initialized a Call for Action (CFA) to help ensure this bill gets approved. As DAAR members, we must support each other by participating in the CFA and contacting our Delegates and Senators to help us make 2022 the year we reach the finish line and get this bill signed into law.
When reviewing DAAR's new 2022-24 Strategic Plan, there are several areas we will address over the next three years, but one specific point I would like to call out is the emphasis placed on our diversity, equity and inclusion, or "DEI" efforts. The phrase, or some derivative of it, is used 11 times throughout our four-page plan, showing our commitment to designing and delivering programs that are comprehensive, sustainable, repeatable and community-wide.
DEI is undoubtedly an area where I would encourage us all to ask ourselves, "What's my role?" Our Diversity & Housing Initiatives Committee, which was established in 2020, is already doing great work in this area, and we will continue to pursue meaningful change.
I could not end this letter before personally thanking Nancy Pav for her tremendous leadership as DAAR President in 2021. I had a front row seat as I watched her execute her term and I was blown away by how hard and how diligently she worked for this Association.
I'm confident that all of us will embrace our roles in the coming year, and I for one look forward to leading DAAR in my new role as President and alongside the rest of the Executive Committee and Board of Directors. Please reach out to me with questions or suggestions at president@dullesarea.com.
Sincerely,
Rich Blessing
2022 DAAR President
Contributions to Virginia REALTORS® RPAC are voluntary and are used for political purposes; they are not deductible for federal or state income tax purposes. Members may contribute more or less than the suggested amount and may refuse to contribute without reprisal. The National Association of REALTORS® or any of its state associations or local boards will not favor or disfavor any member because of the amount contributed. NAR has established state Federal RPAC Disbursement Allocations based on anticipated National RPAC needs. Thirty percent of all Major Investor contributions are sent to NAR to be applied to the Federal RPAC Disbursement Allocation and are charged against the limits under 52 U.S.C. 30116 with the remaining seventy percent maintained for state and local usage. Decisions regarding Virginia REALTORS® RPAC contributions to meet the Federal RPAC Disbursement Allocation will be made throughout the fundraising year.  The contributor certifies that they are at least 18 years old and are making this contribution with their own personal funds- not those of another person or entity, nor are they a foreign national or federal contractor. 
Click below to download the printable letter