President's Page
Meet your 2022 DAAR President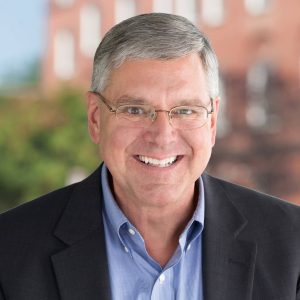 RICH BLESSING
I have been a REALTOR® and a member of DAAR since 2014.
FUN FACTS
I have been an original homeowner in Ashburn Village since 1993.

I started as an on-air meteorologist delivering radio weather forecasts in the northeast United States.

I spent 13 years in management consulting and digital marketing for the real estate industry.

I come from a large family of earth scientists. I met my wife of 43 years in Climatology class. Our oldest is an earth science teacher, just like her mom and her sister's husband, and our son is an environmental geologist.

I previously served as an assistant coach for the varsity softball team at Rock Ridge High School where I helped my oldest daughter start the school's softball program, as well as a past president of the Ashburn Girls Softball League. 
My Q2 2022 Letter to the DAAR Membership:
Dear DAAR Members,
It's hard to believe spring is already here and the world around us is humming with new life and opportunities. Much like the new season, our Association has begun buzzing again with in-person classes and meetings having resumed in March.
It was especially amazing to see the many DAAR members who attended the Economic Summit a few weeks ago, and I hope to see even more of you for DAAR's 2021 REALTOR® Awards on April 28 to celebrate all of your achievements from this past year.
Though it's already been a busy start to 2022, we certainly have not lost sight of the Association's future goals.
In August, a committee was formed to develop DAAR's 2022-2024 Strategic Plan. With Virginia REALTORS® (VAR) overseeing the strategic process, the committee worked diligently and deliberately to craft goals that will help propel DAAR forward over the next three years.
At the heart of DAAR's 2022-2024 Strategic Plan is the Association's mission:
Supporting our members, the real estate industry and the communities we serve with the highest standards of ethics, professionalism and inclusion.
With this mission in mind, five key goals were established surrounding Membership Services, Professionalism and Business Success, Broker Relations, Advocacy, and Community Outreach. In just a few short months, DAAR's leadership, committees and staff have already been making great strides in bettering and building our Association and we will continue to keep these goals at the forefront. I dive deeper into the details of our 2022-2024 Strategic Plan in this video.
Like I mentioned in my first quarter letter to membership, the Strategic Plan places great emphasis on our diversity, equity, and inclusion (DEI) efforts, and what better time to focus on these efforts than in April, which is Fair Housing month. As REALTORS® and as members of DAAR, we must continue to fight for fairness and uphold our commitment to offering equal and professional services.
DAAR will host a special workshop on April 25 led by VAR's Senior Vice President of Community and Industry Relations, Leslie Frazier. The interactive event, How to Have Difficult Conversations Around Race and Any Differences, will help us navigate the uncomfortable and provide resources to be agents of change. I hope all of you will consider attending.
I also encourage you to complete the National Association of REALTORS®' Fairhaven training. This online simulation platform confronts fair housing problems in real estate and urges REALTORS® to ask themselves: Am I a guide, or a gatekeeper?
As we all know, spring can be an extremely hectic time in real estate, but as REALTORS® we are prepared for what is ahead. Continue to support each other, utilize the excellent resources our Association provides, and lead with fairness and integrity.
Please reach out to me with questions or suggestions at president@dullesarea.com.
Sincerely,
Rich Blessing
2022 DAAR President
Contributions to Virginia REALTORS® RPAC are voluntary and are used for political purposes; they are not deductible for federal or state income tax purposes. Members may contribute more or less than the suggested amount and may refuse to contribute without reprisal. The National Association of REALTORS® or any of its state associations or local boards will not favor or disfavor any member because of the amount contributed. NAR has established state Federal RPAC Disbursement Allocations based on anticipated National RPAC needs. Thirty percent of all Major Investor contributions are sent to NAR to be applied to the Federal RPAC Disbursement Allocation and are charged against the limits under 52 U.S.C. 30116 with the remaining seventy percent maintained for state and local usage. Decisions regarding Virginia REALTORS® RPAC contributions to meet the Federal RPAC Disbursement Allocation will be made throughout the fundraising year.  The contributor certifies that they are at least 18 years old and are making this contribution with their own personal funds- not those of another person or entity, nor are they a foreign national or federal contractor. 
Click below to download the printable letter