Advocacy & Government Affairs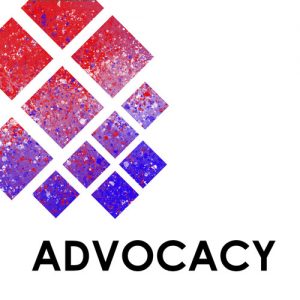 DAAR's Government Affairs program advocates for key REALTOR® issues on behalf of our membership and serves as a watchdog to ensure that regulations or laws are not enacted that impair or penalize REALTORS® or property owners.
DAAR's Government Affairs Director (GAD) and Government Affairs Committee work in tandem to monitor state and local legislation, and bring in lawmakers to speak on the bills they introduce. This robust advocacy approach ensures that DAAR has the most accurate and recent information on policies that can impact you and your clients. 
Click the tabs below to learn more!
Benefits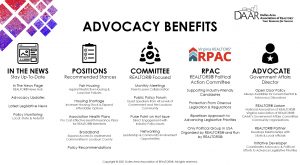 DAAR's Political Involvement
Another way DAAR advocates for our members is through our Government Affairs Director's (GAD) active engagement with the Loudoun Community. From attending Loudoun County Board meetings, to connecting with other local organizations, DAAR's GAD constantly monitors policy changes and public affairs so that you can stay ahead of the curve.
Did you know:
 DAAR has representatives on: 

Loudoun County Zoning Ordinance Committee

Loudoun County Chamber of Commerce Board of Directors

Loudoun County Chamber of Commerce Public Policy Committee

Loudoun County Chamber of Commerce Housing Policy Team

Loudoun Broadband Alliance

Northern Virginia Transportation Alliance

DAAR has 10+ comprehensive policy positions, including:
Government Affairs Committee
DAAR's Government Affairs Committee (GAC) is comprised of REALTOR® members like you, where professionals work closely with DAAR's GAD and/or  CEO to advance the values and mission of the real estate industry. The Committee meets monthly and hosts a guest speaker regularly (normally a policymaker or elected official). One of the benefits of being a GAC member is the opportunity to participate in state and local politics and ensure that the REALTOR® interests are being heard and brought to the table.
Join the Government Affairs Committee today! You'll stay informed on real estate-related issues on the local, state and federal level, dialogue with the Loudoun County Board of Supervisors,  members of the Virginia General Assembly representing Loudoun County and be an active advocate with the REALTOR® Party.
Government Affairs Director
DAAR's government affairs director works with coalitions and stakeholders across Northern Virginia to impact policies on behalf of REALTORS, homeowners, and renters. They develop key relationships with elected officials and community organizations and also manage the REALTOR® Political Action Committee (RPAC).
In The News
DAAR's In The News page has you covered.  From community engagement, to federal, state & local policy changes, this is your hub for all things advocacy. Brush up on the latest housing news, DAAR's advocacy efforts, and everything in between.
RPAC
100% of your RPAC investment is used to elect candidates at the local, state, and national levels who both understand and support REALTOR® issues. RPAC looks to build the future by putting dollars in places that will help advance the interests of REALTORS®. RPAC is the only political group in the country organized for REALTORS® and run by REALTORS®. RPAC exists solely to support issues important to REALTORS®. Candidates who receive support from RPAC are not selected based on their political party or ideology, but solely on their support of real estate issues.
Here's how you can help:
Join the

REALTOR® Party and Invest in RPAC today!

Join with other the leaders in our industry by investing – $25, $50, $100 or $1,000 in RPAC today. Invest 

on-line, download this form

and fax to (703) 771-9787, or call and set up an easy Installment Plan today!

For questions or if you would like to get involved in DAAR's advocacy efforts, contact DAAR at (703) 777-2468 or

info@dullesarea.com.



Contributions to Virginia REALTORS® RPAC are voluntary and are used for political purposes; they are not deductible for federal or state income tax purposes. Members may contribute more or less than the suggested amount and may refuse to contribute without reprisal. The National Association of REALTORS® or any of its state associations or local boards will not favor or disfavor any member because of the amount contributed. NAR has established state Federal RPAC Disbursement Allocations based on anticipated National RPAC needs. Thirty percent of all Major Investor contributions are sent to NAR to be applied to the Federal RPAC Disbursement Allocation and are charged against the limits under 52 U.S.C. 30116 with the remaining seventy percent maintained for state and local usage. Decisions regarding Virginia REALTORS® RPAC contributions to meet the Federal RPAC Disbursement Allocation will be made throughout the fundraising year. The contributor certifies that they are at least 18 years old and are making this contribution with their own personal funds- not those of another person or entity, nor are they a foreign national or federal contractor.