Ethics Complaints and Arbitration
Overview

Boards and associations of REALTORS® are responsible for enforcing the REALTORS® Code of Ethics. The Code of Ethics (view pdf) imposes duties above and in addition to those imposed by law, or regulation which apply only to real estate professionals who choose to become REALTORS®.  DAAR's Professional Standards Program works to enhance the level of industry professionalism through education and the REALTOR®  code of Ethics formal complaint process.
Here are ways you can handle a dispute with a member:
Open, Constructive Dialogue
Many difficulties between real estate professionals (whether REALTORS® or not) result from misunderstanding, miscommunication, or lack of adequate communication. If you have a problem with a real estate professional, you may want to speak with them or with a principal broker in the firm. Open, constructive discussion often resolves questions or differences, eliminating the need for further action.
Ombudsman Program
The Ombudsman Program is intended to provide an alternative dispute resolution service for members of the public or other REALTORS® with complaints against members of the Association. An ombudsman can respond to general questions regarding real estate practices, transaction details, ethical practices and enforcement issues.
Learn about the Ombudsman Program
Frequently Asked Questions
Ombudsman Request
DAAR Citation System
DAAR's Citation System is a way to avoid time-consuming ethics complaints and hearings. If the respondent agrees to the Citation System, he/she would pay the standard, preset fine associated with that Article. If the Respondent does not respond within ten (10) days, the case is automatically forwarded to the Professional Standards Committee for a full hearing.  Read more.
Is the individual a member of DAAR? Check here.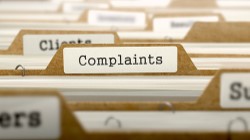 Ethics Complaint Process
If a problem cannot be resolved informally, there is a complaint process for educating and disciplining members who are found in violation of rules.
Read "Before You File an Ethics Complaint".

Anonymous Complaint Process
In response to feedback from our valued members, DAAR now accepts anonymous complaints to be filed in limited instances. Complaints will still be filed through the filing system where a complainant can indicate their desire to file the complaint anonymously.
Arbitration Filing Process
Arbitration is an alternative dispute resolution program for broker members which provides a forum for resolving business disputes in lieu of litigation. Arbitrations are completely separate from ethics hearings. Only brokers can file a request for arbitration.
Arbitration Guidelines
Request and Agreement to Arbitrate (Member)
Request and Agreement to Arbitrate (Non-Member)
Mediation Process
Lockbox Rules
DAAR and surrounding associations created rules and regulations for the use of our electronic lockbox system.  These rules provide guidelines for anyone who wishes to receive access to the system.
To access the Regional Rules & Regulations for the Sentrilock Lockbox System, click here.
To access the Rules & Regulations for Assistants & Affiliates, click here.
Additional Resources
For more information from the Virginia REALTORS®, please visit: http://www.varealtor.com/EthicsCenter
For more information from the National Association of REALTORS®, please visit:  http://www.realtor.org/code-of-ethics
Questions?
Contact Janet Sowers
Professional Development and Professional Standards Director
571-291-9805
jsowers@dullesarea.com