August 2017 Loudoun County Market Trends Report: Sales Price Reaches Record High; Sales Decline; Inventory Remains Low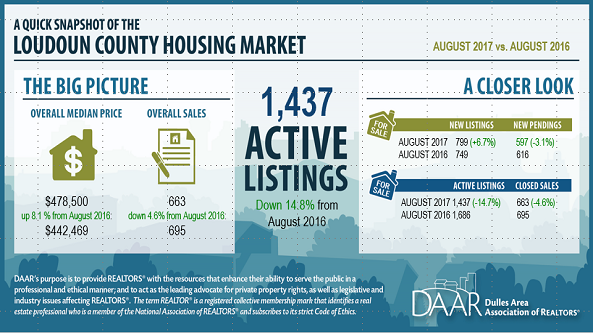 The following analysis of the Loudoun County, Virginia housing market has been prepared by George Mason University's Center for Regional Analysis. It was prepared for the Dulles Area Association of REALTORS® by analyzing Bright MLS housing data from MarketStats by ShowingTime.
Overview
Loudoun County's median home sale price reached $478,500 in August – an increase of 8.1 percent on an annualized basis. This is the highest overall median sales value in over a decade.
Sales growth continues to stall as the 663 closed sales in August was a decrease of 4.6 percent over August 2016. Fewer buyers signed contracts to buy homes in August compared to last year – new pending sales decreased 3.1 percent to 597. This is a sign that low inventory is likely suppressing sales, as both limited choices and climbing home prices sideline prospective buyers.
For the 26th consecutive month, active inventory declined. At the end of August, inventory was 14.8 percent lower than the same point last year. This left 1,437 homes for sale at month's end, with 2.6 months of supply heading into September.
New listing activity increased in August versus last year (+6.7 percent). Loudoun County added 781 new homes to the market in August – the highest number of August new listings since 2013. This signals some respite from the market's consistently low supply of homes, however, the number of year to date new listings is down 1.3 percent from this time last year.
Loudoun County homes continue to sell faster than last year, with half of the August sales listing for 18 days or less, down from August 2016's median of 25.
Loudoun County home sellers received on average 97.9 percent of original list price in August.
Detached single family homes saw their highest median sale price on record of $631,000 and were the only segment to increase in sales– up 2.1 percent from last August.