Gene Mock Receives Virginia REALTORS Honor Society Recognition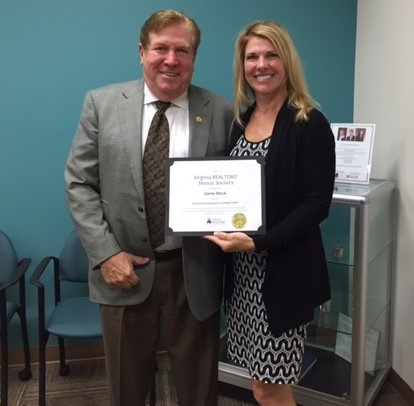 Congratulations to Gene Mock, Keller Williams, Leesburg, who has been recognized as a member of the Virginia REALTORS® Honor Society for 2016.
The Virginia REALTORS® Honor Society recognizes members for their outstanding commitment, dedication and service to the local, state and national REALTOR® organization.
Locally, he serves as a trustee of the Dulles Area REALTORS® Political Action Committee (DARPAC), Chair of Public Policy of with DAAR as well as DAAR's Government Affairs Committee and Education Committee.
At the state level, Gene also serves as a member of the Virginia REALTORS® Public Policy Committee, trustee of RPAC of Virginia and member of the Strategic Funding Committee.
At the national level, Gene serves as Region 3 representative for NAR's Land Use and Property Rights Committee, as a member at-large of Global Business and Alliances Committee and as a member of the FPC Team for Congresswoman Barbara Comstock (R-10).
In a few weeks, he is also running for the Virginia REALTORS® Board of Directors.
Thank you Gene for your continued involvement and commitment to the REALTOR® organization!