Economic Summit: What's in Store for Housing and Beyond – Friday, April 6, 8-11AM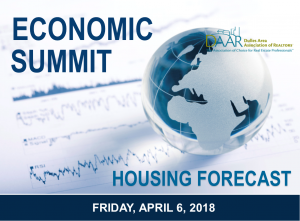 Join us for DAAR's Economic Summit: What's in Store for Housing and Beyond on Friday, April 6th, 8-11AM at Loudoun County School Administration Building, 21000 Education Court, Ashburn, VA.
The event offers an opportunity for REALTORS® in the Northern Virginia and Loudoun County area to understand housing and economic trends and forecast for 2018 and beyond.
Featured speakers include Mrs. Colleen Kardasz, Assistant Director, Loudoun County Economic Development, who will discuss projected economic development and growth in Loudoun County with an eye on Metrorail, data centers and key industry target areas; Mrs. Danielle Hale, Chief Economist, realtor.com, who will provide a forecast of national and regional residential and commercial real estate market trends; and Dr. Terry Clower, Director, George Mason University Center for Regional Analysis, who will discuss current residential and commercial market trends in Loudoun County and Northern Virginia .
Registration fee of $25 Member (early-bird before 3/30), $35 Member (regular registration), $45 non-member includes breakfast and materials.  For more information, download the flyer.  Click here to register.