DAAR Members Donate over $1,600 in Gift Cards to the Loudoun Abused Women's Shelter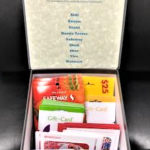 REALTORS® and Affiliates give their time, talents and resources to the causes that matter most to them. From raising funds to helping build homes and handing out needed supplies at the holidays, REALTORS® and Affiliates devote themselves to improving the lives of those in the community. Members of the Dulles Area Association of REALTORS® (DAAR) are no exception.
In the spirit of DAAR's longstanding commitment to community service, DAAR's Community Service Committee collected over $1,600 in gift cards during a four-month period in 2017. On Thursday, January 19, 2018, Holly Weatherwax, President of DAAR, presented the gift cards to the Loudoun Abused Women's Shelter (LAWS) Director, Terry Allen.
"Our members have kept up the tradition of providing a brighter future for our neighbors," said Weatherwax. "It is through organizations such as LAWS that we can make a difference in the lives of domestic and sexual assault victims." The gift card presentation featured DAAR President Weatherwax, DAAR member and LAWS Director Allen, and DAAR Community Services Committee Chair, Brenda MacEoin.
LAWS was founded in 1984 and provides emergency shelter, counseling, advocacy, support groups, legal services, and support to victims of domestic and sexual violence completely free of charge for over 30 years. The donated gift cards will be used to provide medication and household supplies, purchase groceries, and to help provide transportation to job interviews.
The Dulles Area Association of REALTORS®, founded in 1962 and serving over 1,400 REALTOR® and Affiliate members, works to safeguard and advance the mutual interests of the public, property owners, and real estate professionals for real estate-related matters. DAAR has donated over $300,000 to local charities since 1992 and looks forward to continuing this tradition of giving back to the community.
For questions or additional information contact Member Services membersvc@dullesarea.com.