REALTORS® Endorse Gwen Pangle in Leesburg Town Council Race – Special Election is 2/6
The Dulles Area Political Action Committee and the Virginia REALTORS® Political Action Committee enthusiastically endorse Gwen Pangle in her bid to become the next Leesburg Town Council member!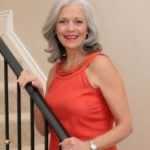 Gwen Pangle, former Chair of the Dulles Area Association of REALTORS® and Principal Broker of Pangle and Associations in Leesburg, is running for an open seat on the Leesburg Town Council this year. The special election will take place on Tuesday, February 6, 2018.
Pangle is passionate about Leesburg, having lived and worked in Leesburg for over twenty years. "I will ensure that our constituents have a town that works for them every day," said Pangle. "It is important to me that our town gives everyone the opportunity to enjoy a high quality of life." Gwen's priorities include fostering economic growth, improving collaborative governance and strengthening community and business partnerships to secure Leesburg as a key destination area.
In addition to running a small business, Gwen volunteers with the Leesburg Downtown Business Association, Leesburg Economic Development Commission, and the Medical Reserve Corp of Loudoun. She faces Neil Steinberg and Joshua Thiel for the open seat.
For more information about the special election click here.