DAAR Members at the 2018 Virginia REALTORS® Economic and Advocacy Summit
Members the Dulles Area Association of REALTORS® (DAAR) joined with hundreds of REALTORS® in downtown Richmond for the 2018 Virginia REALTORS® Economic and Advocacy Summit. Eleven members from the DAAR Board of Directors and Government Affairs Committee ensured that the voice of Loudoun County REALTORS® was heard throughout the Summit.
"These Summits offer a unique opportunity to have critical face-to-face meetings with those who are in a position to make a difference in Loudoun County," said Holly Weatherwax, President of DAAR. "We're here to make sure lawmakers know that our 1,400 members are actively engaged in advocacy efforts to help strengthen the real estate industry."
This year's Summit included a twist on the traditional "Day on the Hill" advocacy. Because the legislative offices are temporarily relocated to a much smaller facility, Virginia General Assembly members were invited to come to the Omni Richmond Hotel to participate in a Legislative Town Hall. Our Loudoun lawmakers came in force!
The DAAR delegation discussed issues of importance to the real estate industry and advocated for passage of the 2018 REALTOR® Legislative Agenda with Lieutenant Governor Justin Fairfax, Senators Black (R-13) and Wexton (D-33), and Delegates Reid (D-10), Gooditis (D-32), and LaRock (R-33). DAAR members also engaged in conversations with lawmakers representing the Northern Virginia and Greater Piedmont areas, including counties ranging from Fairfax, Prince Williams, and Fredericksburg.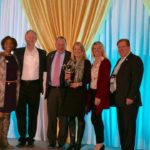 A highlight of the Summit came as DAAR was awarded the 2017 REALTORS® Political Action Committee (RPAC) Triple Crown. This prestigious award is given to associations that meet or exceed their RPAC goals. This marks the 3rd year in a row that DAAR has received this tremendous honor!
This year's keynote speaker was Governor Ralph Northam. The Summit also featured NAR's Chief Economist Lawrence Yun and Virginia's Economic Development Partnership President and CEO Stephen Moret, who offered their insight on current economics and policy. You may view the presentations of Lawrence Yun and Stephen Moret online. The Summit also provided opportunities for REALTORS® to learn, gain continuing education credit.
For more information on DAAR's advocacy efforts, contact Brenda Morton, Government Affairs and Communications Manager, (703) 777-2468 or bmorton@dullesarea.com.