DAAR's Website Gets a New Look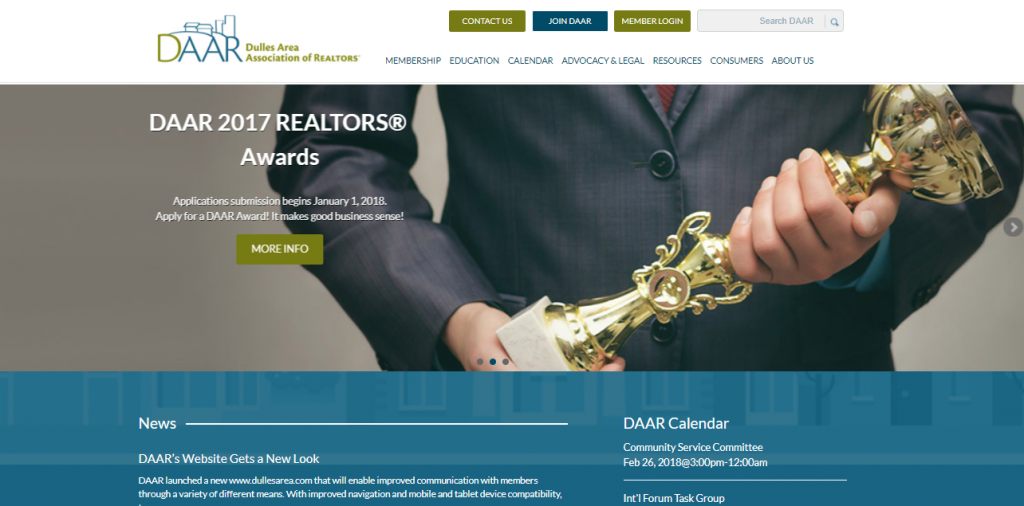 DAAR launched a new www.dullesarea.com that will enable improved communication with members through a variety of different means. With improved navigation and mobile and tablet device compatibility, the site has been redesigned to better serve DAAR members looking for information on member services, education, events, affiliate members and advocacy resources.
The new site is redesigned and organized to offer easy access to key resources such as hot-topic news, membership information, education, events, education and meeting calendar, advocacy, business resources and market statistics. To register for education classes, events and to pay dues, an easy-to-find "Member Login" button on the top of the page allows members to logon with their ID and password. Clicking "Contact Us" allows for a quick response from staff and "Join DAAR" button provides instant access to required membership forms and on-line application.
The website offers visitors resources to assist in buying and selling a home under the "Consumers" section including finding a DAAR REALTOR®, finding a home, community and neighborhoods and top reasons to use a REALTOR®. Consumers and REALTORS® can also access the "Find a Real Estate Service Provider" under "Resources" for a searchable list of mortgage lenders, title attorneys, photographers, staging professionals and more to help them with their real estate needs.
We are working on making improvements to the new site and are very interested in your feedback. Please submit your comments to info@dullesarea.com or call 571-291-9803.