February 2018 Loudoun County Market Trends Report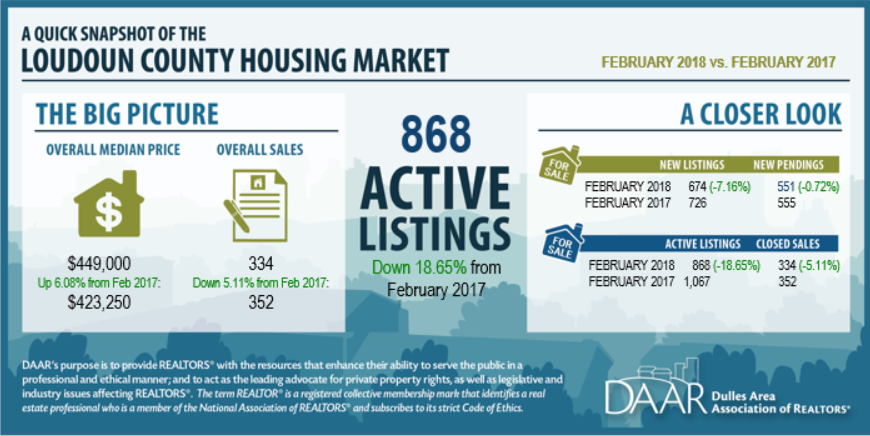 DAAR Housing Market Update – Loudoun February 2018 The following analysis of the Loudoun County, Virginia housing market has been prepared by George Mason University's Center for Regional Analysis. It was prepared for the Dulles Area Association of REALTORS® by analyzing Bright MLS housing data from MarketStats by ShowingTime.
 Overview
For the 32st consecutive month, active listings declined in Loudoun County, again reaching the lowest recorded inventory number in over a decade. At the end of February 2018, inventory was 18.6 percent lower than the same point last year. This left 868 homes for sale at month's end, with 1.6 months of supply heading into March.
The number of closed sales continued to decline. February's 334 closed sales represented a decline of 5.1 percent over February 2018. This is a continued sign of low inventory suppressing sales, as prospective buyers are severely limited in choices.
Fewer home buyers signed contracts in February 2018 compared to last year, but at a slower pace of decline than previous months. New pending sales decreased 0.7 percent to 551, but they were still 7.6 percent greater than the 5-year February average of 512.
New listing activity decreased in February versus last year (-7.2 percent), reversing last month's increase. Loudoun County added 674 new homes to the market in February. The erratic change in new listings from month to month signals little long term relief from the market's consistently low supply of homes.
After a few months of slow growth, median prices rose 6.1 percent compared to last year, reaching $449,000.
Loudoun County homes continued to sell faster than last year, with half of the February sales listing for 13 days or less—down from February 2017's median of 17.
Loudoun County home sellers received, on average, 98.1 percent of original list price in February.
After several consecutive months of growth, condos saw low numbers of February new listings, pending sales, and closed sales.
For more information, read the report.