Weigh in on the Future Growth in Loudoun This Week!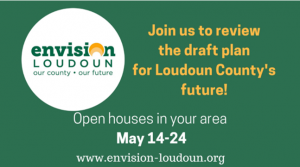 Calling all DAAR Members! We need you to make sure Loudoun County officials hear from REALTORS® as they develop a new Comprehensive Plan. It is your chance to help the County address critical issues, such as where new housing developments could be built, what infrastructure improvements are needed, and how to make better use of available land for development.
As a DAAR member, each of you knows the impact local land use rules have on your ability to be a successful REALTOR®. Please join us in planning the future of Loudoun County and use the DAAR Talking Points as you submit comments on the Housing Chapter of the draft Loudoun 2040 General Plan.
The County will host four (4) Open House events this week. Please SIGN UP NOW for one – or MORE – of the Open Houses!
Monday, May 21, 2018
10:00am to 2:00pm
Loudoun County Government Center, Dulles Room
1 Harrison Street SE, Leesburg
Monday, May 21, 2018
6:30pm to 8:30pm
Eagle Ridge Middle School
42901 Waxpool Road, Ashburn
Tuesday, May 22, 2018
6:30pm to 8:30pm
Cascades Senior Center
21060 Whitfield Place, Sterling
Thursday, May 24, 2018
6:30pm to 8:30pm
John Champe High School
41535 Sacred Mountain Street, Aldie
The draft Loudoun 2040 General Plan is posted at www.envision-loudoun.org. You may submit comments online through the end of May.
Questions? Contact Brenda Morton, Government Affairs and Communications Manager, DAAR, at (703) 777-2468 or bmorton@dullesarea.com.