Brad Boland Recognized by NAR for His Commitment to Home Ownership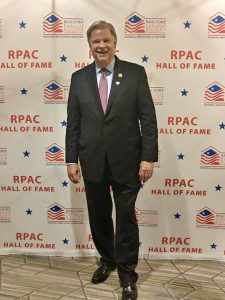 DAAR is extremely proud to announce and congratulate Brad Boland for his induction into the 2018 RPAC Hall of Fame. "I am honored to be recognized for my commitment to helping people realize the dream of owning a home," said Boland, a Broker with Keller Williams Realty Dulles. The Hall of Fame recognizes dedicated members who invest in the REALTORS® Political Action Committee (RPAC).
"It is important that REALTORS® work together on issues that affect consumers and the real estate industry. Through RPAC, I know that our efforts are used to support homeownership and private property rights." Boland has over 40 years of experience in the real estate industry and has been a consistent participant in RPAC since 2005.
RPAC is a national, bipartisan grassroots-based advocacy organization and the only advocacy group in America that fights exclusively for home ownership, real estate investment, strong communities, and the free enterprise system. Members voluntarily invest in RPAC to help shape the future of the real estate industry.
Boland was inducted into the RPAC Hall of Fame on May 16, 2018, during the National Association of REALTORS® (NAR) Legislative Meetings in Washington, D.C. Along with the recognition, he will receive a plaque and pin commemorating his support, and his name will be inscribed on a plaque on the NAR building rooftop in Washington, D.C.
The Dulles Area Association of REALTORS® (DAAR), founded in 1962 and serving over 1,500 REALTOR® and Affiliate members, works to safeguard and advance the mutual interests of the public, property owners, and real estate professionals for real estate-related matters.
Questions? Contact Brenda Morton, Government Affairs and Communications Manager, DAAR, at (703) 777-2468 or bmorton@dullesarea.com.