NAR Call for Action: Congress Must Reauthorize the National Flood Insurance Program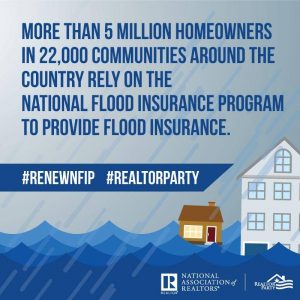 The current National Flood Insurance Program (NFIP) is set to expire on July 31st if there is no Congressional action. Without federal flood insurance, millions of home and small business owners in 22,000 communities nationwide will not be able to obtain insurance to protect their property against flooding! This will cause an estimated delay or cancellation of 1,400 transactions every day. On the afternoon of Monday, June 18th, NAR will launch a Call For Action to all REALTORS®. Please take action and ask Senators to extend and reform the NFIP and also ask House members not to let the program lapse.
 Flooding is the most costly and common natural disaster in the United States. NFIP continues to be the primary source of asset protection against flooding. NAR and members like you are strong advocates for a long-term reauthorization of the program and needed reforms.
The NFIP has been operating on a series of short-term reauthorizations. Earlier this year, extensions of the program were included along with other "must-pass" spending bills. There is a heightened urgency this time since NFIP is the only federal program with an expiration date of July 31, 2018!
Congress Must Reauthorize the National Flood Insurance Program
 Please join with your fellow REALTORS® and
Take Action – Be the Voice of REALTORS® on Capitol Hill!

Send a message through NAR's REALTOR® Party Mobile Alert. If you haven't already, sign up for the REALTOR® Party Mobile Alerts by texting the word REALTOR to 30644.
Send a message through NAR's Call For Action
Write a letter to your Member of Congress.
Questions: Contact Brenda Morton, Government Affairs and Communications Manager, at (703) 777-2468 or bmorton@dullesarea.com.