June 2018 Loudoun County Market Trends Report: Prices reach a record high amid low inventory; Overall sales are up slightly as condo sales soar.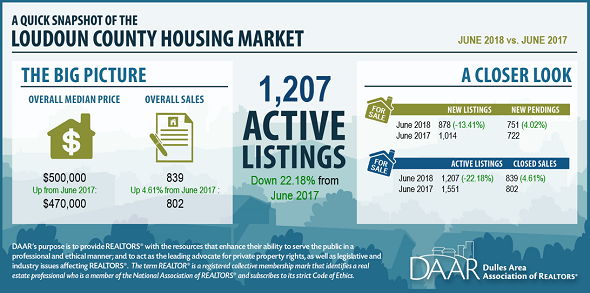 Overview
Loudoun County's median home sale price reached $500,000 in June—an increase of 6.4 percent on an annualized basis. This is the highest monthly median sales value on record.
For the 36th consecutive month, Loudoun County's active listings declined, reaching the lowest recorded June inventory number in over a decade. At the end of June 2018, inventory was 22.2 percent lower than it was at the same point last year. This left 1,207 homes for sale at month's end, with 2.2 months of supply heading into July.
New listing activity decreased in June versus last year (-13.4 percent) as Loudoun County added 878 new homes to the market. The erratic change in new listings from month to month signals little long-term relief from the market's consistently low home supply.
June sales in Loudoun County increased, as the month's 839 closed sales represented a rise of 4.6 percent over June 2017. So far in 2018, sales are up 1.3 percent compared to the same period in 2017. In spite of low active listings, sales growth contributed to the continual tightening of inventory which in turn can suppress sales and keep growth below its potential levels.
Condos led sales growth, climbing 37.9 percent from June 2017. The 131 condos sold in June were the highest monthly number of closed condo sales on record.
Slightly more home buyers signed contracts in June 2018 compared to June 2017. New pending sales increased 4.0 percent to 751, and were 11.4 percent greater than the 5-year June average of 674. This may translate to increased sales over the coming months.
Loudoun County homes sold at a similar pace to last year, with half of the June sales listing for 9 days or less—up three days from last month and equal to June 2017's median.
Loudoun County home sellers received, on average, 98.8 percent of original list price in June.
For more information, read the full report.