Safety Matters: Feel Safe on the Job
September is REALTOR® Safety Month
Like many other jobs that require interaction with the public, selling real estate involve some risk.  DAAR is committed to protect it's members' safety by educating members of potential threats, and providing them with resources to protect themselves. DAAR can help you stay safe.
As part of our ongoing effort to keep you safe we will be sharing tips each week.
Tip #2 Bring Up the Rear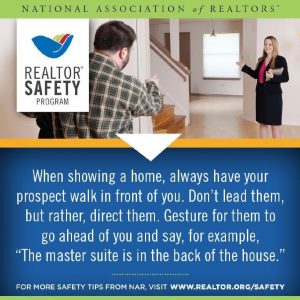 When showing a home, always have your prospect walk in front of you. Don't lead them, but rather, direct them from a position slightly behind them. You can gesture for them to go ahead of you and say, for example, "The master suite is in the back of the house."  Avoid situations that could cause being trapped within a room or basement.
We are pleased to offer Safety Matters on September 24th from 10 am – 12pm
Have you ever shown a home to complete strangers and realized the vulnerability of the situation especially if safety measures aren't taken into account? Being alert to danger no matter how benign the situation appears is a good start!
This class will help you:
Quickly assess a potentially dangerous situation and take appropriate action.
Understand your exposure to risk.
Effectively follow safety best practices when showing property, conducting an open house, working in the office, and driving alone or with clients or customers.
Learn how to safeguard your personal data as well as practice prudent use of social media, and mobile phone technology.
Understand current criminal activity trends in the community.
Speakers:
Deputy Ethan Martin, Loudoun County Sheriff's Department
Allan Marteney, Broker, Atoka Properties
Can you afford NOT to attend?  Register NOW!  FREE for DAAR Members/$20 Non-Members.
For more information, view the flyer.  Lunch will be provided.