DAAR Applauds Kathy Jones as She Receives the Code of Ethics Leadership Award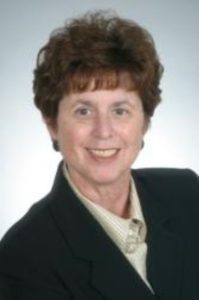 Members of the Dulles Area Association of REALTORS® (DAAR) celebrated on September 26, 2018 as Kathy Jones received the Virginia REALTORS® Code of Ethics Leadership Award. Jones, with Long and Foster Real Estate, received this prestigious award during the Virginia REALTORS® convention ACCELERATE 2018 in Norfolk, VA.
For almost thirty years, Jones has voluntarily taught courses on the Code of Ethics at DAAR and has significantly raised the level of professionalism in the real estate industry. "Receiving this award from my peers is not just a great honor for me," said Jones. "It is a great honor for my association." The Virginia REALTORS® Code of Ethics Leadership Award honors a REALTOR® who exhibits knowledge of the REALTOR® Code of Ethics, arbitration and/or professional standards, and who shares such expertise unequivocally.
DAAR President Holly Weatherwax was among the hundreds of REALTORS® congratulating Jones. "Kathy Jones is an exceptional REALTOR® and Educator and very deserving of this prestigious award," said Weatherwax. "We are so proud that to have her as a member of our association."
Jones has been a member of DAAR for over thirty years and has made numerous contributions to the real estate profession in the areas of ethics and professional standards. She has served as Chair of DAAR's Education Committee, Grievance Committee, two-terms on the Board of Directors and on the Metropolitan Regional Information Systems Compliance Committee. In 1997, she received the DAAR Code of Ethics Award and in 2000 she received the DAAR REALTOR® of the Year Award. In 2017 and 2018, she was also appointed to serve on the Virginia REALTORS® Risk Management Committee.
The Dulles Area Association of REALTORS® (DAAR) is The Association of Choice for Real Estate Professionals™ in the Northern Virginia area.  Founded in 1962, DAAR works to safe guard and advance the mutual interests of the public, property owners, and real estate professionals for real estate-related matters.