DAAR Member Beckwith Bolle Installed as the 2019 President of the Virginia REALTORS®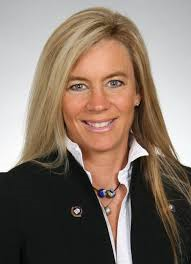 On September 26, 2018, DAAR joined with hundreds of REALTORS® from across Virginia and celebrated the installation of Beckwith Bolle as the 2019 President of the Virginia REALTORS®. Bolle, a member of the Dulles Area Association of REALTORS® (DAAR), was installed during the Virginia REALTORS® convention ACCELERATE 2018 in Norfolk, VA.
Beckwith Bolle, Principal Broker and Owner of Carter Braxton Preferred Properties, was sworn in by Brad Boland, a past President of DAAR and of the Virginia REALTORS®. As the 2019  President of the Virginia REALTORS®, Bolle will represent over 34,000 REALTORS® engaged in the residential and commercial real estate business in Virginia.
During her remarks, Bolle encouraged REALTORS® to "Make Your Mark" in our community. "I want to inspire all of us to become more involved in the economic development discussions taking place in our communities," said Bolle. "Housing has a significant impact on the local economy and it is important for REALTORS® to be engaged in the conversations." Bolle will be the 80th President of the Virginia REALTORS® and the 5th DAAR member to serve in that capacity.
DAAR President Holly Weatherwax was among the hundreds of REALTORS® congratulating Bolle. "We could not be more proud of Beckwith and the work she has done on behalf of the REALTOR® community," said Weatherwax. "She will do a fantastic job as the Virginia REALTORS® President. It is exciting for DAAR to have another one of our exceptional past Presidents installed at the State level."
Bolle has been actively involved with DAAR since 2004 – serving as DAAR President in 2013, chairing the Governmental Affairs Committee and the RPAC Committee, and serving on the DAAR Board of Directors. She has won several awards from DAAR including 2010 REALTOR® of the Year, Community Service Award, and was inducted into the DAAR Honor Society.
The Dulles Area Association of REALTORS® (DAAR) is The Association of Choice for Real Estate Professionals™ in the Northern Virginia area.  Founded in 1962, DAAR works to safe guard and advance the mutual interests of the public, property owners, and real estate professionals for real estate-related matters.