Don't Delay – NAR Code of Ethics Required by 12/31/18. Take the Course on 11/30
NEW Two-year Cycle Deadline December 31, 2018
REALTORS® are required to complete ethics training of not less than 2 hours, 30 minutes of instructional time within two-year cycles. The training must meet specific learning objectives and criteria established by the National Association of REALTORS®.
A new two-year cycle began January 1, 2017. The deadline for this cycle is December 31, 2018.
Training may be completed through local REALTOR® associations or through another method, such as home study, correspondence, classroom courses, or online courses.
Failure to complete this requirement by Dec. 31, 2018, will result in suspension of membership from your local, state and national REALTOR® associations. This would mean suspension of all member services, including SentriLock subscriptions.
In order to assist you with completing this requirement, DAAR is offering the following options:
Take an ethics class at DAAR (free of charge). Successful completion of our three-hour REALTOR® ethics class satisfies the NAR requirement and will earn you three hours of CE credit.  As members, there is no charge for this class and DAAR  automatically uploads to NAR.
Nov. 30, 2018 – 9:00AM to Noon
Dec. 05, 2018 – 9:00AM to Noon
Take NAR's No-Cost Option online ethics class.
Complete ethics training at a real estate school. If you have completed an ethics class through another real estate school that is at least 2½ hours in length and covers the history and the articles of the Code of Ethics and can produce a certificate that reads "REALTOR® Ethics" or "Code of Ethics," please forward a certificate of completion to Teresa Kirkhart, Professional Development and Standards Director, info@dullesarea.comto ensure your membership will not be suspended.
Are you unsure if you completed the class?  Here's a way to check in two easy steps:
Step #1: Login to the DAAR Member Portal
Step #2: Once logged in, review the area of the home screen below as shown below.  If you completed the code of ethics class this cycle, it should read "Your Last COE Date: Month/Day/Year." and "COE Complete: Yes".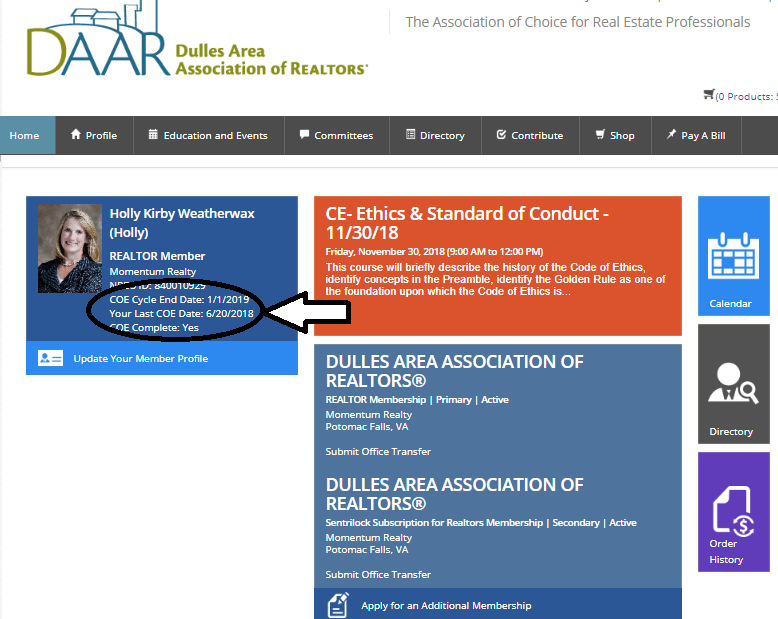 If you have any questions, please contact Teresa Kirkhart,mailto:tkirkhart@dullesarea.com or 571-291-9805.