October 2018 Loudoun County Market Trends Report: Prices Remain High as Inventory Continues to Tighten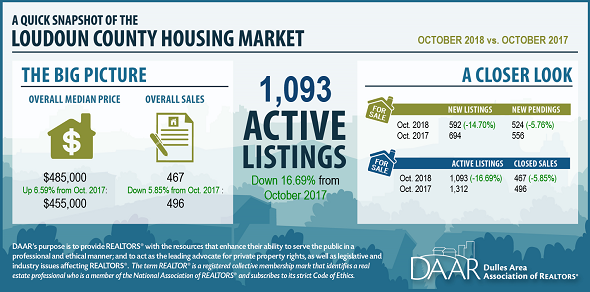 Overview
October active listings continued to decline. October listings declined 16.7 percent from 1,312 in 2017 to 1,093 in 2018. October active listings in 2018 are less than half their 2014 peak of 2,209.
Declines in active listings are widespread with active listings increasing in only one of the eight zip codes with more than 20 sales, Sterling's 20164 (+21.7 percent).
Supply will likely remain tight next month as new listings declined 14.7 percent from 694 in October 2017 to 592 in October 2018.
There were 467 closed sales in Loudoun County in October, down 5.8 percent from October 2017.
New pending sales declined 5.8 percent from 556 in October 2017 to 524 in October 2018. Despite the decline from the same month the year prior, new pending sales remain near their 5-year average of 517.
The decline in new pending sales from the same month last year resulted from a decrease of new pending sales of detached homes, which declined 15.5 percent from October 2017. New pending sales of townhomes and condos both increased modestly from the same month last year.
The average share of the original asking price that sellers receive remains high. In October, sellers in Loudoun County received 98.5 percent of their original asking price, 1.2 percentage points more than in October 2017.
As a result of tight supply and strong demand, median prices have continued to increase. The median sales price in Loudoun County was $485,000 in October 2018, a 6.6 percent increase from October 2017 but unchanged from last month.
Given that supply is likely to tighten further, due to declining new listings, median sales prices are unlikely to decline.
For more information, read the full report.