Gift Card Donation and Cell Phone Recycling for Loudoun Abused Women's Shelter (LAWS)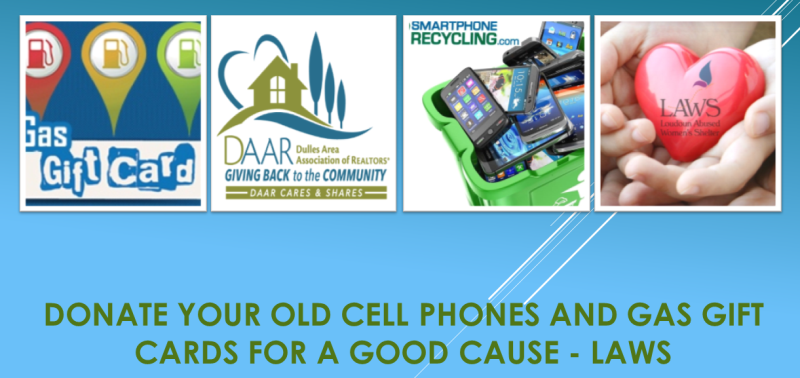 REALTORS® and Affiliates give their time, talents and resources to the causes that matter most to them. This year the DAAR Community Service Committee is supporting LAWS.  LAWS has provided emergency shelter, counseling, advocacy, support groups, legal services and support to victims of domestic and sexual violence completely free of charge for over 30 years. As this year ends, LAWS is in need of your help collecting gas station gift cards and old cell phone donations.
Donating your used cell phone or tablet is a great way to support a charitable cause. DAAR is collecting your used devices and turning them into something good. We will collect your old devices as donations and send them to be recycled.  The company, Smart Phone Recycling, will recycle the phones and send all proceeds directly to LAWS.
We will also be collecting gift cards to gas stations.  These cards can help provide transportation for women in the shelter to the LAWS main office, to a job interview or to an appointment that is needed for their children. Any denomination of gift card or financial contribution is welcome!
Donations will be accepted at the DAAR office through December 20th and we will also accept donations at the DAAR Holiday Party and Officer Installation on December 6th at Embassy Suites in Ashburn.
Please help us keep up the tradition of providing a brighter future to our neighbors who are looking for a 2nd chance or guidance toward getting their lives on the right path to success through this important shelter-based charity.
Your participation is appreciated!
For questions or additional information contact Member Services membersvc@dullesarea.com.