November 2018 Loudoun County Market Trends Report: Inventory Remains Tight and Sales Prices Remain High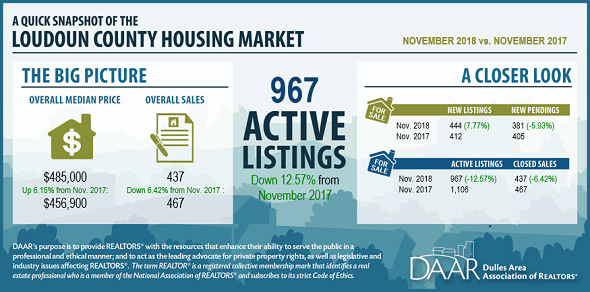 Overview
There was further tightening in already low inventory levels with active listings declining in November. There were 967 active listings in Loudoun County in November, 12.6 percent fewer than the same month last year.
Active listings have declined compared to the same month in the prior year for 41 consecutive months. Active listings last increased year-over-year in June 2015.
The decline in active listings was widespread. Active listings of detached homes, townhomes, condos all decreased. Furthermore, active listings did not increase in any of the nine zip codes analyzed.
New pending sales in Loudoun County declined 5.9 percent in November year-over-year, likely the result of low inventory.
November closed sales in Loudoun County also declined, decreasing 6.4 percent from November 2017. Lower closed sales, year-over-year, was expected given the large decline in pending sales recorded in October.
The median sales price in Loudoun County was $485,000 in November, 6.2 percent greater than November 2017 and 9.2 percent greater than the 5-year November average. The median sales price in November was the highest November median sales price in over a decade.
The median sales price in Loudoun County has been stable or growing, year-over-year, for 11 consecutive months.
Despite the high median sales price, sellers continue to receive close to full asking price. The average sales price to original list price was 98.0 percent in November, 0.8 percentage points greater than November 2017.
While total inventory remains tight, new listings increased 7.8 percent in November 2018 compared to November 2017. While the increase in new listings is relatively modest by number of units (+32), any increase is welcome news in these tight market conditions.
For more information, read the full report.