December 2018 Loudoun County Market Trends Report: Active Listings Lowest in Over a Decade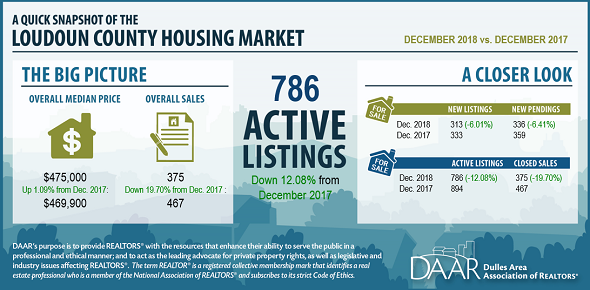 Overview
Inventory continued to tighten in December, despite a modest increase in new listings in November.
There were only 786 active listings in Loudoun County in December 2018, the fewest active listings in over a decade for any month.
The number of active listings declined 12.1 percent from December 2017 to December 2018; declines were recorded for detached homes, townhomes, and condos.
The number of closed sales also decreased, recording a 19.7 percent decline from 467 in December 2017 to just 375 in December 2018. The number of closed sales in December 2018 was the fewest December closed sales since 2011.
The number of new pending sales also decreased, but the decline was a more modest 6.4 percent.
Likely a result of the low inventory, the average Sales Price to Original List Price (SP to OLP) ratio remained high at 98.2, declining only 0.1 percentage points from a decade high in December 2017.
The median sales price of homes sold in Loudon County climbed 1.1 percent month-over-year, from $469,900 in December 2017 to $475,000 in December 2018.
The number of new listings decreased month-over-year, declining 6.0 percent from 333 in December 2017 to 313 in December 2018 offering little indication that inventory conditions will improve in early 2019.
Given that the active supply of homes for sale is 32.3 percent below the 5-year average, median sales prices and the average SP to OLP ratio will both likely remain elevated.
For more information, read the full report.