Updates to Days on Market for Listings Imported From MRIS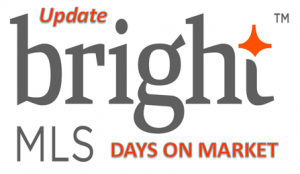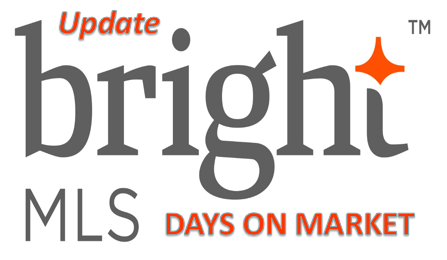 Bright MLS forwarded the following update on 1/21/19 related to Days on Market to subscribers:
There is no industry standard on DOM calculations.  Each MLS and each third party site uses a different methodology for counting, pausing and stopping this number. Theses differences create confusion for consumers.
Having a uniform methodology for DOM that works for agents and helps them support consumers continues to be our objective.
For the MLSs that came together to form Bright, we found the key differences in how each MLS calculated DOM, and attempted to use the best of each in determining a methodology for Bright.
Here is how Days on Market in Bright is calculated:
| Listing Status History | DOM Impact |
| --- | --- |
| Coming Soon | DOM is paused. |
| Active | DOM starts and continues to accumulate. |
| Active under Contract | DOM continues to accumulate. |
| Pending | DOM is paused. |
| Temporarily Off Market | DOM is paused. |
| Closed | DOM is stopped. |
| Expired | DOM is stopped. |
| Withdrawn | DOM is paused. |
| Cancelled | DOM is stopped. |
As active and historical listings were imported into the system, they were updated based on these rules and statuses. This was very important to maintain a clean database where everyone could compare listing information historically across the market.
After hearing feedback from Bright subscribers in your market, we are making changes to the way DOM was calculated on some listings imported into Bright from MRIS.
MRIS had Contingent w/ Kickout (CTNG/KO) and Contingent w/o Kickout (CNTG/No KO) statuses. Based on the rules for these statuses, they were considered still on-market, accepting showings and backup offers. They were displayed on IDX and Internet sites, but they did NOT accumulate DOM. Both of these statuses logically seemed to fit into the Active Under Contract status in Bright, so they were converted into this status.
While these statuses look similar on paper, in practice listings that were changed to Contingent w/o Kickout (CNTG/No KO) were more closely aligned to a pending status in Bright.
After a careful review into how these statuses were typically used, we decided that Contingent w/o Kickout (CNTG/No KO) should convert to the Pending status in Bright.
529,442 active and older, off-market listings with the former MRIS Contingent No KO status will soon be mapped to Pending. DOM will stop accumulating on the day of that status change and be updated historically.
This is a very high priority for us.
We understand how important these numbers are to you and your clients. These changes are being developed and tested now and are expected to be complete by early February.
For more information visit https://www.brightmls.com/#/article/9267
Courtesy of Bright MLS