Get the Most out of Membership – Join a DAAR Committee Today!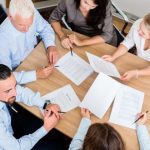 One of the many benefits of membership is the opportunity to join a DAAR committee of interest.  Serving as a committee member will not only help guide the services and resources the Association provides to members but can benefit your business and work as a real estate professional.  The networking opportunities are invaluable, the insight you gain into this industry is amazing.  As a bonus, the peers serving on the committee with you become friends, mentors and colleagues to call on for help, ideas or information.
As a real estate professional and member of DAAR, we value your input and ideas. Please consider joining one of Association's committees and help shape the future of the association and the real estate industry.   To start participating, view our committee information and complete the online form or contact 703-777-2468 for more information.