Bright MLS Release Notes as of January 31st: Corrections and Improvements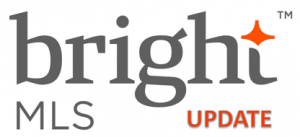 The following release notes describing corrections and improvements to the Bright MLS system were made as of January 31st:
Agent and Client Gallery Reports.
Because of your feedback, we've added the Agent and Client Gallery Reports to your report options in Bright. These reports offer more listing information than the Thumbnail Report in a format that's easier to scan and print than the Full or One-Page Reports. Learn more about the Agent and Client Gallery report here.
Listing Performance Report now available in Bright.
You now have access to a Listing Performance report for your active listings. These detailed reports show how buyers interact with your listing and compares that listing activity to the activity on competitive properties in local markets. These are deep-dive, statistical reports that give you information to share with your clients to help them to make critical decisions during the buying or selling process. Learn more about the Listing Performance report here.
Launch of Bright Knowledgebase.
We are launching a new online help system at https://support.brightmls.com. Our Support team will be adding help topics to this database to use as an ongoing resource. It is purposely designed for ease of use, so you can quickly find information and related articles based on your search criteria and browsing history.
Improved process for entering Comparable listings.
When you select Comparable Y/N = Y, the system will now automatically set the Status to Closed and the List Agent ID to 12345, a generic ID assigned to non-subscribers of Bright MLS.
Comparable listings with any other List Agent entered will be updated to reflect the 12345 ID.
Where Comparable Y/N = N, you may enter 12345 for the Selling Agent if the listing was purchased by a consumer who did not use a Bright MLS agent.
Days on Market no longer accumulating for Coming Soon listings.
Days on Market was accumulating for some listings in the Coming Soon status. This issue has been corrected for current Coming Soon listings. Listings in the Coming Soon status have had any accumulating DOM cleared, and that DOM will not continue to accumulate. Listings not in the Coming Soon status that were previously affected by this issues have not yet been corrected.
Automatically update your listing's tax information from Public Records.
We've created a new process that will automatically update your listing's tax values when the data becomes available in Public Records. There is a new field titled Automatically Update Tax Values Y/N. All existing on-market and new listings will default to having Yes selected. This will ensure that your listing is always using the most up-to-date information available in Bright. A message will indicate which fields can be updated from the Tax Record, while selecting No will require you to update these fields manually.
Please note: The processes that will automatically update tax information across listings in Bright are scheduled to begin February 18. If you choose to opt out of Automatically Update Tax Values for any of your on-market listings, please select No prior to February 18.
Here is our help text and fields that can be updated:
You can now submit accuracy inconsistencies found in Public Records.
We made it easy to report any inconsistencies and/or errors that you may find in public records data. To report an error, simply click on the red bull's-eye icon at the top of the screen which will bring you directly to Bright's Accuracy Issue page. Here, you will be able to provide additional details about the error that was found.
Fixes were made to the Financial Calculators.
We recently made changes to the Buyer Closing Cost and Seller Net Sheet Calculators, including fixing the issue that prevented you from saving a Buyer Closing Cost when using the Cash Sale type. View other recent fixes to the Financial Calculators here.
Fewer, more applicable fields for entering and searching Commercial Lease properties.
Based on the responses we have received from ongoing focus groups, subscriber surveys, and other customer feedback, we have updated nearly one-third of the fields within the Commercial Lease property type. The refinements made will help improve the efficiency and effectiveness of entering and searching for Commercial Lease properties. Learn more about these changes to searching commercial lease properties.
Edit Tax ID without overwriting listing data.
If you need to change the Tax ID of an existing listing for any reason, you can now manually update the Tax ID without overwriting your listing's information. Once an edit is made to the Tax ID, you will be prompted to allow your listing to be automatically updated with data from the Tax Record, or you can choose not to overwrite the information in your existing listing.
Restricted and cautionary word check in Listing Management.
In Listing Management, free form text fields such as public remarks, photo captions, and document upload descriptions are now automatically checked for restricted and cautionary words to help you avoid potential violations of Fair Housing and/or regulatory compliance laws. If restricted words are entered in the applicable text fields, the words will be flagged and you will be unable to publish your listing until they are removed. If you enter terms that have been designated as cautionary words, you will receive a warning to review the flagged words but will still be able to publish your listing without removing them. More information about Fair Housing laws around restricted words can be found on the Bright MLS Fair Housing page.
Please note: We are aware that some words are being restricted that should not be. We are working to resolve this for you to update your listings as soon as possible.
Municipality is now an optional field and will no longer appear for Pennsylvania, Virginia, Washington, D.C., and New Jersey listings.
The Municipality field is now optional and will no longer be visible if you are entering a listing in Pennsylvania, Virginia, Washington, D.C., or New Jersey. This is because this information is already required and available in the MLS Areas section for these areas. For listings in Pennsylvania and New Jersey where Municipality was populated and MLS Area was not specified, the existing Municipality information is being mapped to MLS Area.
Bedrooms and bathrooms are no longer required for certain types of properties.
You are no longer required to enter at least 1 bedroom and 1 bathroom for properties that are designated as Garage/Parking Space, Shell, Cabin/Lodge, Efficiency, or Studio.
Updates to improve searches and data in Listing Management.
Withdrawn Date and List Agreement Cancel Date: We have applied rules to ensure you do not enter invalid dates for listings in Withdrawn or Cancelled status. Withdrawn Date and List Agreement Cancel Date will now be flagged if they occur in the future or if they occur on or after Listing Term Begins.
Heating Type and Heating Fuel: We have made revisions to the Heating Type and Heating Fuel fields to improve results when used in a search. Learn more about these changes to heating and fuel.
Go and Show – No Showing Contact: Under Showing Contact Type, we have added a Go and Show – No Showing Contact option for those listings that do not require an assigned Showing Contact.
Search for a ZIP code beginning with "0": We fixed a bug that was preventing users from searching for a ZIP code beginning with the number zero.
Proceed without tax record: You can now create a listing without having to enter a Tax ID if the property does not have one (e.g., New Construction listings). When you select Proceed without tax record, "No Tax Record" will be populated in the Tax ID Number field. This can be cleared and modified at any time to attach a valid tax record.
For Brokers: Embed videos in your Office News posts.
Now you can embed videos from YouTube, Vimeo, and Dailymotion in your Office News posts. Learn how here.
Delayed: Listing alerts are now displayed on your dashboard.
The ability to view alerts on your Bright dashboard has been delayed for a future release. Learn more about this upcoming change to your dashboard here.
For information on past system releases, click here.
To submit an technical or data related issue with the system to DAAR so we can communicate it quickly to Bright MLS executives, click here!