Presentations Available: 2019 Economic Summit – What's In Store for Housing and Beyond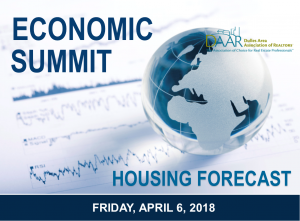 Over 150 members and guests attended DAAR's Economic Summit: What's in Store for Housing and Beyond on Friday, April 5th, 8-11AM at Loudoun County School Administration Building, 21000 Education Court, Ashburn, VA.
The event offered an opportunity for REALTORS® in the Northern Virginia and Loudoun County area to understand housing and economic trends and forecast for 2019 and beyond.
Featured speakers included….
The Honorable Phyllis Randall, Chair, Loudoun County Board of Supervisors, who provide a perspective on economic development, housing and future local priorities.  Click here for the presentation.
Dr. Lisa Sturtevant, Chief Economist, Virginia REALTORS®, who provided an overview of national and state economic trends and policy impact on housing.  Click here for the presentation.
Dr. Terry Clower, Director, George Mason University Center for Regional Analysis, who discussed current residential and commercial market trends in Loudoun County and Northern Virginia. Click here for the presentation.
Thank you to our sponsors!