Do You Want to Become a Broker? Real Estate Law Course Begins on 5/29!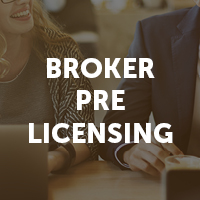 Are you interested in elevating your knowledge, earning distinction as an expert or gaining a competitive edge?  You may want to consider working toward your broker's license.
To become a broker in the state of Virginia, you must:
Be a licensed agent for 36 out of 48 months consecutively
Complete 180 classroom hours of real estate broker pre-licensing courses approved by the VREB (Broker Appraisal, Broker Finance, Broker Real Estate Law, Broker Management)
Pass the PSI Virginia Exam for Brokers
On Wednesday, May 29th, we are pleased to begin the Broker Real Estate Law course series featuring expert instructor Mark Worrilow. Class dates are 5/29,6/5, 6/12, 6/19, 6/26, 7/3 from 8:30AM-4:30PM.  For more information about the program and to register click here or view the flyer.