June 2019 Loudoun County Market Trends Report: Housing Market Continues to Tighten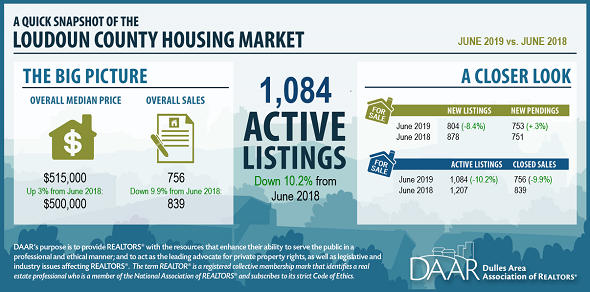 Overview
Inventories of for-sale homes continue to decrease in Loudoun County.
The number of active listings dropped 10.2 percent in June 2019 compared to one year earlier. Loudoun County residential listings have declined more than 50 percent since the peak in 2015.
June closed sales decreased almost 10 percent from the previous year dropping to 756 units compared to 839 units in June 2018. Pending sales remained effectively flat year over year at 753 units for June 2019.
Tightening supplies has resulted in prices increases that is most readily apparent in the ratio of sales price to original listing price. In June 2019, home sellers in Loudoun County received an average of 99.2% of their asking price. The median sales price of Loudoun homes rose to $515,000 in June 2019, a 3.0 percent gain versus June of 2018. Anecdotally, the constraining factor on prices, even in this very tight market, is buyer qualification.
County averages for Days-On-Market (DOM) has fallen off the cliff dropping to 16 days, more than three weeks (22 days) fewer than June 2018. Buyers are increasingly having to make fast, full, or near full, price offers.
There is notable variation across the county at the zip code level. However, one should not over analyze housing price variability in sub-county markets. For example, in terms of DOM and sales-to-list price ratios, the weakest submarket in Loudoun is the Great Falls area (zip code 22066), yet this area had the highest year-over-year gains in sales prices with the median price of properties sold rising by 22 percent in June 2019. Conversely, Leesburg (zip code 20175) saw a 12.6 percent drop in median home sale prices in June 2019 compared to a year earlier. In both cases, these pricing trends had much to do with the particular homes that sold (size, age, condition, amenities, etc.).
Every measure of sales volume (units sold, listings, pending sales) showed declines for attached homes over the past 12 months. Total active listings for attached dwellings, at 348 in June 2019, are 150 units below the five-year average.
For more information, read the full report.