New SentriCard® Renewal Period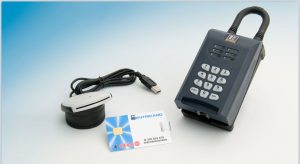 Did you forget to renew your SentriCard® today?
Don't worry, you will now you have a week to renew it.
In response to issues raised regarding the 24-hour renewal period for your SentriCard®, you will now only need to renew your SentriCard® every seven (7) days effective Monday, July 29th. No need to worry about forgetting to renew your card at the last minute while running out the door. There will no longer be the inconvenience of running by the office or a Starbucks to connect to Wifi in order to renew your card.
That's right – Your SentriCard® will be valid for an entire week!
In order to use your card, you will have to update it once every seven days in the card reader. If the card is not updated through the card reader within the seven days, your card will remain expired until it has been renewed.
Please note that due to this change, listing agents will no longer receive showing notifications by email or text until the showing agent renews their card. Lockbox accesses can be reviewed by logging into SentiLock®. Once there "Select" the lockbox tab. Select "Serial Number" from the Search field. Type in the serial number and select search. When the lockbox information appears, select "View" next to Access Log. You will be able to select the length of time that you would like to view. If the showing agent uses a card to access the NXT (older blue faced boxes), you will only receive notifications once the cards have been renewed.   Keep in mind this change will not affect showing notifications, which are instant, when agents use the SentriKey® app on SentriLock Bluetooth boxes.
We look forward to continuing our effort to provide you with effective tools your business needs.  View SentriLock resources for more information.
For questions or additional information contact Member Services membersvc@dullesarea.com.