Mark Miller Honored for His Community Service!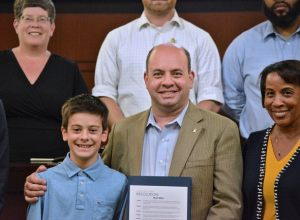 Congratulations to DAAR member Mark Miller, Long & Foster, Ashburn, who was honored by the Board of Supervisors for his dedication to Loudoun County. Miller has volunteered for the last eight years with the Loudoun County's Public Library Board of Trustees, serving as Chairman of that Board for the last six years.
In addition to volunteering in Loudoun County, Miller currently serves on the Library Board of the Library of Virginia. In 2016, Miller was awarded the Trustee Library Award by the Virginia Library Association. The award is presented annually in recognition of distinguished service to a library or libraries in Virginia. In 2017, he was awarded the Trustees citation from the American Libraries Association, the highest honor given to library trustees.
Congratulations Mark!
LOUDOUN COUNTY, VIRGINIA
RESOLUTION
Presented to
Mark Miller
September 3, 2019
WHEREAS
Mark Miller served an eight-year tenure on the Loudoun County Public Library Board of Trustees, with the last six of those years spent serving as Chairman of the Board; and
WHEREAS
He helped oversee the opening of Gum Spring Library and Brambleton Library, both of which are valuable resources for Dulles and Loudoun County residents; and
WHEREAS
He received the Virginia Library Association Trustee Library Award in 2016 and the American Library Association Trustee Citation in 2017; and
WHEREAS
He spent his time on the Board of Trustees working to diversify programs and materials for a rapidly growing population of library patrons; and
WHEREAS
Mr. Miller also served on the Loudoun County Fiscal Impact Committee, the Loudoun County Housing Advisory Board, and on the Board of the Friends of Ashburn Library, as well as founding Smashing Walnuts, a nonprofit foundation dedicated to defeating childhood cancer.
NOW THEREFORE BE IT RESOLVED that the Loudoun County Board of Supervisors does hereby recognize Mark Miller for his service on the Loudoun County Public Library Board of Trustees and in various other community endeavors.