October 2019 Loudoun County Market Trends Report: October Median Sales Price Increases for Ninth Consecutive Year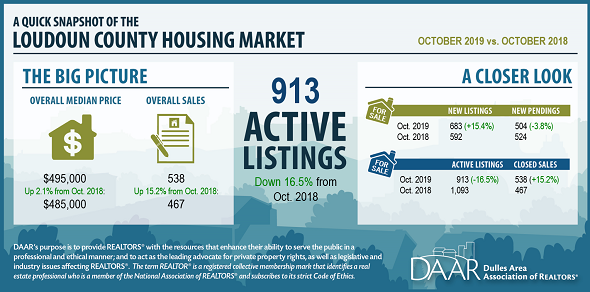 Overview
Loudoun County's year over year median sales prices increased for a ninth year in a row, up 2.1% since last October. The end-month median sales price of $495,000 reflects a new 10-year record high for the month of October. Closed sales set a 10-year record high in Loudoun County at 538 in the month of October. This reflects a year-over-year increase in home sales of 15.2% since 2018. Performance metrics showed an increase of 10.6% over the five-year October average for Loudoun County closed sales.
End-month Loudoun County October 2019 new pending sales decreased only slightly by 3.8% during the 12-month period, i.e. posting twenty fewer units as new pending sales in 2019 (504) versus 2018 (524). Worth noting, this month's slight decline immediately followed September 2019's ten-year record high for new closed sales.
Loudoun County's new listings for the month of October, totaling 683 units, increased by 15.4% over the 12-month period. This improvement reflects year over year increases in new listings of detached homes (10.6%) and attached homes (20.1%). As with both the months of August and September 2019, Loudoun County active listings at the close of October 2019 showed a five-year decline in inventory. October's inventory reflected a 58.7% decline since the 2014 inventory high of 2,209 and a 16.5% decline in the past 12-months.
Average SP to OLP ratio decreased slightly over the 12-month period, down 0.3 points from the October 2018 ten-year high. Attached home sellers fared better than detached home sellers, when compared against last year's SP to OLP ratio, i.e. the listing discount for Loudoun County attached homes was 0.7% in October, as compared against a 3.1% listing discount for detached homes.
Web: For more information, read the full report.