NAR Code of Ethics Course Requirement Now Every Three Years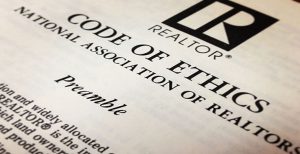 In 2019, NAR's Board of Directors approved a change to the Code of Ethics (COE) training requirement, extending it from every two years to every three years. This extends the current cycle deadline from Dec. 31, 2020, to Dec. 31, 2021.  REALTORS® are required to complete ethics training of not less than 2 hours, 30 minutes of instructional time. The training must meet specific learning objectives and criteria established by the National Association of REALTORS®.
To check whether you took the course during the current cycle which began on January 1st, 2019 and now ends on December 31st, 2021, visit Check Code of Ethics Status.
If you have not completed your COE training, there are several options including:
Training may be completed through local REALTOR® associations or through another method, such as home study, correspondence, classroom courses, or online courses. Read the consequences for failing to complete Code of Ethics training.