November 2019 Loudoun County Market Trends Report: Median Sales Price Sets Record November High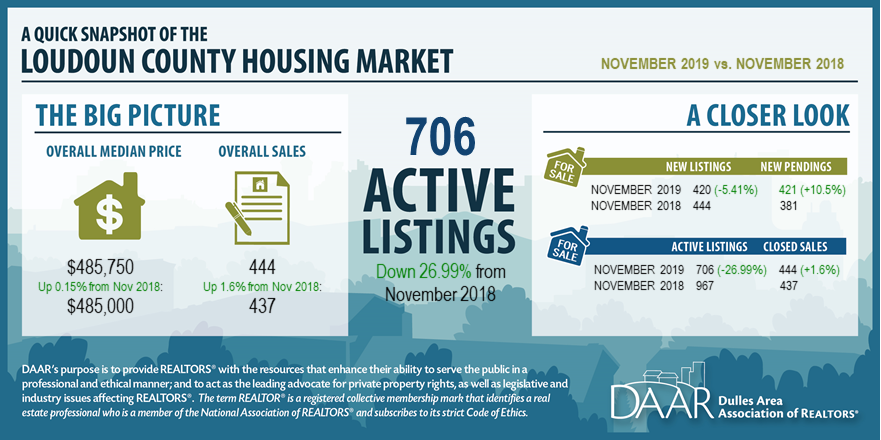 Overview
Loudoun County's November median sales prices increased for a ninth year in a row, up 0.15% since last November. The end-month median sales price of $485,750 is a new 10-year month-over-the-year record high for November. Median sales prices improved for detached homes by 4.2% and attached homes by 5.4% in last month, when compared against last November. Loudoun County's median sales prices were $650,000 for detached homes and $420,000 for attached homes in November.
Loudoun County improved in month-over-the-year closed sales this November, increasing by 1.6% with 444 closed sales last month, versus 437 in November 2018. End-month November 2019 new pending sales increased by 10.5% in the year-over-year comparison, bested only by 2015 and 2016 in terms of new pending sales over these past ten years. New pending sales of detached homes improved by 4.2%, while attached homes improved by 16.8%.
Loudoun County's new listings last month, totaling 420 units, were only 5.41% fewer than the number of new listings in November 2018. Notably, new listings of attached homes, at 218 units, posted a comparative increase of 7.9% this November versus last year's total of 202.
As with the months of Aug-Oct 2019, Loudoun County's active listings at the close of November 2019 showed a five-year decline in inventory. November's inventory reflected a 62.7% decline since the 2014 inventory high of 1,893 and was 26.99% less than 2018's end-November inventory.
The November 2019 Average SP to OLP ratio for Loudoun County marked a ten-year high, increasing over the 12-month period by 0.78% from 98.0% to 98.7%. Attached home sellers fared better than detached home sellers, in terms of minimizing the listing discount, at 0.9% compared against 1.8%, respectively. Overall, Loudoun County homes sold at a 1.3% listing discount in November 2019.
Loudoun County Median DOM this past month decreased for both detached (-37.0%) and attached (-46.7%) homes in the month-over-year comparison, i.e. since November 2018.

For more information, read the full report.