January 2020 Loudoun County Market Trends Report: While Inventory Remains Historically Low, Possible Relief Ahead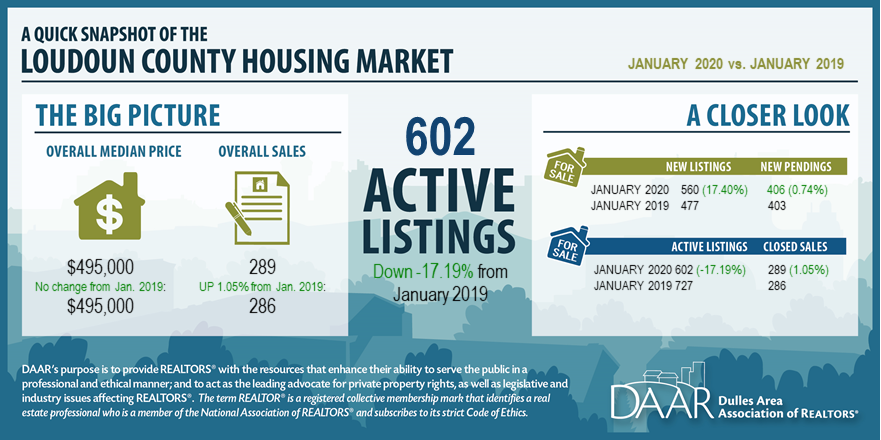 Overview
The median price of sold homes in Loudoun County leveled off in January. The median price of sold homes in the county remained unchanged from a year ago at $495,000 in January 2020.
As an encouraging sign that activity may be starting to increase, the number of new pending sales and closed sales both increased. While increases in both measures were modest, any increase in either metric is a notable shift.
Perhaps more notably, the number of new listings increased a very promising 17.4% from 477 in January 2019 to 560 in January 2020. The increase in January active listings was the largest year-over-year increase in the number of January active listings since January 2012.
Despite the increase in new listings signaling a possible increase in activity in the near future, the number of active listings continued to decline. The 602 active listings in Loudoun County in January 2020 was the second fewest number of active listings in any month during the past decade; only December 2019 had a fewer number of listings active (582).
Given the tight inventory, it remains a sellers' market with the average Sales Price to Original List Price (SP to OLP) ratio near record highs and the median Days on Marker (DOM) at record lows.
The average SP to OLP ratio was 98.5 percent in January while the median DOM was just 17 days.
For more information, read the full report.