DAAR Helps with Habitat for Humanity Home Renovation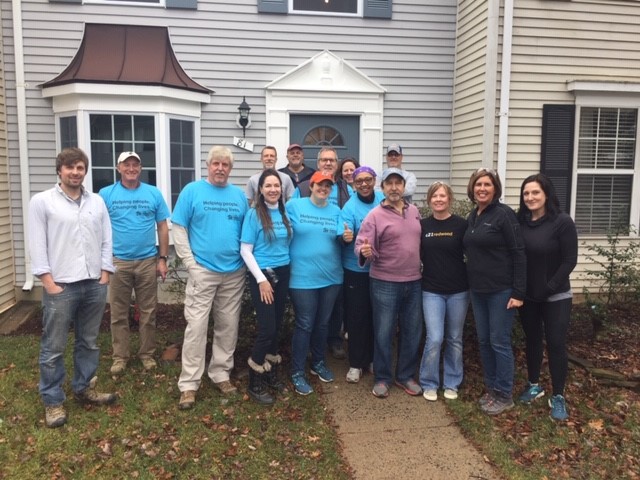 FOR IMMEDIATE RELEASE                                                       FEBRUARY 27, 2020
CONTACT: CHRISTINE AURIGEMA                                        703-777-2468
DULLES AREA ASSOCIATION OF REALTORS® HELPS WITH HABITAT FOR HUMANITY HOME RENOVATION
ASHBURN – On February 25, 2020, members of the Dulles Area Association of REALTORS® (DAAR) participated in a Habitat for Humanity renovation for a Sterling, Virginia family in need.
Eleven REALTORS® and affiliate members hung cabinets, installed drywall and painted interior walls over the course of a rainy February Tuesday. The weather wasn't ideal, but every volunteer face still wore a smile.
The partnership between Habitat for Humanity and the Dulles Area Association of REALTORS® was organized by the association's Community Service Committee, which plans and executes several hands-on community volunteering events every year.
The committee's sole purpose is to develop programs and projects that address shelter related community concerns. In addition, the committee selects charities to support every two years. Committee members will volunteer at the charity's events, lend helping hands for projects and raise money to help the organizations meet their most pressing needs.
Recently completed projects include collecting coats and blankets for Mobile Hope Loudoun, the Loudoun Abused Women's Shelter (LAWS) and the Loudoun Cold Weather Shelter. Volunteers also collected old cell phones for LAWS. This summer, the committee will busy their hands painting rooms at a local shelter.
For more information, contact Christine Aurigema, Dulles Area Association of REALTORS® marketing and communications manager, 571-291-9804 or caurigema@dullesarea.com.
The Dulles Area Association of REALTORS® (DAAR) is The Association of Choice for Real Estate Professionals™ in the Northern Virginia area. Founded in 1962, DAAR works to safeguard and advance the mutual interests of the public, property owners, and real estate professionals for real estate-related matters.
Loudoun Habitat for Humanity brings people together to build homes, communities and hope. The organization partners with home buyers, volunteers, donors, businesses and community organizations to transform lives and rebuild communities. Through shelter, they empower.
Dulles Area Association of REALTORS®
21720 Red Rum Drive, #177
Ashburn, VA 20147
www.dullesarea.com
703-777-2468