Take Your Showings to the Next Level with SentriLock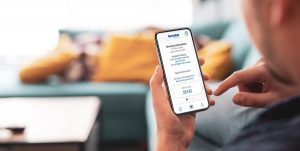 With the SentriKey® Real Estate app, you have more tools right at hand to take your home showings to the next level. Opening the key compartment initiates the following new features to make your showing run smoothly.
Showing Information
Whether it's "Please remove your shoes" or "The alarm code is 1234," you now have showing instructions from the listing agent within the app. In addition, through a soon-to-be-released integration, we will pull showing instructions directly into the app from your MLS. No more scribbling showing instructions on sticky notes – it's all in the app!
Listing Information
Why fumble with a bunch of papers when there's a better alternative? Have important information about the property such as the number of bedrooms, baths, square footage and price, all at your fingertips with the app. You can also click the Listing Details button to use our integration with partners like RPR, HomeSnap, HomeSpotter, and Matrix to view more in-depth property details.
Listing Agent Information
Easily reach out to the listing agent with questions about the property or comments by using the Listing Agent Details page. On most phones you can click on the listing agent's phone number to automatically dial the number. Again, it's all in the app.
Manually Ending a Showing
This feature makes sure the listing agent and homeowners know when a showing has ended so the owners can return to their home. The showing agent simply clicks a button to indicate the end of the showing and a notification is sent. It's a simple but powerful feature that benefits everyone involved in the process.
SentriLock is always there to help you take your showings to the next level! It's the SentriLock way.
For more information, contact the Sentrilock Customer Support Team at 513-618-5800.